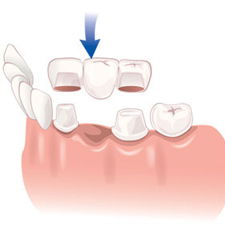 Mitzi Morris, DMD, PC is your trusted source for top quality crowns and bridges in Roswell, Georgia. Natural looking crowns and bridges can be an ideal cosmetic dental treatment for replacing, supporting or restoring missing or damaged teeth. As a board-certified Doctor of Dental Medicine, Dr. Mitzi Morris is highly qualified to place dental crowns and bridges. Using the highest quality materials and the most advanced techniques, we have used dental crowns and bridges to restore the smiles of countless individuals throughout Roswell and the surrounding communities North of Atlanta.
Alpharetta GA Porcelain Crowns
For top quality porcelain crowns near Alpharetta, GA, you can trust the talented professionals at Mitzi Morris, DMD, PC. A crown is a dental restoration that can be placed over a tooth to provide strength or to improve its appearance. This type of restoration is used when more conservative restorations are insufficient to restore the form and function of the tooth. Our cosmetic dental practice offers crowns that are natural in appearance, comfortable to wear and made to last. If you have a tooth that has been severely damaged, severely discolored or otherwise unattractive, you may be a good candidate for a porcelain dental crown. Schedule an appointment with Dr. Morris today to find out if a porcelain dental crown is the right type of restoration for you.
Dunwoody Dental Bridges
You can also turn to the experts at Mitzi Morris, DMD, PC if you live in Dunwoody and are in need of a dental bridge. A dental bridge is a type of restoration that is used to replace two or more missing teeth. There are a variety of different types of bridges available, including ones that are supported by dental implants. After a consultation, Dr. Morris can determine which type of dental bridge is best suited for your particular needs.
If you are interested in a dental crown or bridge to restore the form and function of your smile, please contact our Roswell Crowns & Bridges Dentist today to schedule an appointment. We look forward to helping you achieve your best smile: a smile that is healthy, beautiful and confident.