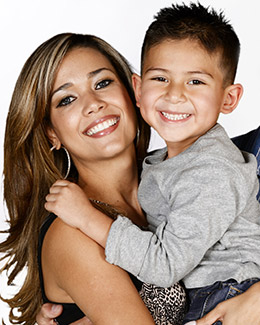 Nothing lights up a room like a child's smile. At Mitzi Morris, DMD, PC, we welcome families and children of all ages at our dental practice in Roswell. From tiny tots that are just getting their first teeth to adolescents and teens, we offer friendly, gentle care for the smiles of our youngest patients. It is our honor to help you and your children obtain healthy, beautiful smiles that can last a lifetime.
Children need special care for their growing smiles and an atmosphere where they will feel comfortable. Our goal is to help our young patients learn about the importance of oral care while creating a fun, friendly environment during their visits to our office. We take the time to get to know our little patients and make sure they feel special during their dental procedures. Excellent oral health begins at a young age. It is our privilege to provide the care and instruction needed to create healthy, beautiful smiles for your children.
We Love Your Kids!
Many adults suffer from dental anxiety due to poor experiences at a dentist when they were younger. We want to ensure your children will not needlessly feel anxious about dental care by providing a safe, caring place for their treatments. Everyone on our team loves working with kids and welcomes the chance to get them on the right path to excellent oral health. We work with children and parents to create a cohesive plan to care for any dental issues and prevent future problems.
Preventive care is the most important part of children's dentistry. We will carefully monitor your child's oral health to recommend the best options to avoid decay and other dental issues. Routine exams and cleanings are essential. They often prevent many common dental problems and reduce the need for treatments. We accept many dental insurance plans that cover routine and preventive care. Our practice makes it simple and affordable to maintain healthy smiles for your family. Contact us today to schedule your child's next checkup.