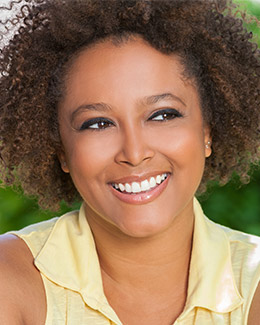 There is no reason you should not enjoy the benefits of a complete smile. If you have lost some or all of your teeth, there are restoration options available at Mitzi Morris, DMD, PC. We offer dentures for our patients needing a full or partial restoration for their smile, giving affordable options to restore function and improve appearance.
Missing teeth can result in a lower quality of life. Not only does losing several or more teeth impact the foods you can eat, it can affect your self-confidence. People who have lost many teeth often report feeling self-conscious in social situations. Many individuals even avoid seeing new people or going out in public because they are embarrassed of their missing teeth. Dentures offer a solution to give you back a winning smile and the ability to enjoy nutritious, healthy foods again.
Full or complete dentures are used to replace all the teeth on the upper and lower jaw. These appliances are formed to fit directly on your gums, held in place with adhesive. Our modern options are comfortable and look natural, giving you a beautiful smile you will love.
Partial Dentures
Not everyone who needs dentures requires a complete set. Partial dentures are a wonderful option for those who have a few important teeth missing, but are not ready for full dentures. Partials fit around existing teeth and are designed to blend in with your smile. This is a good solution for individuals who are not good candidates for dental implants or bridges, due to health or budget concerns.
You deserve to enjoy a complete and beautiful smile. If you have missing teeth, contact Mitzi Morris, DMD, PC to schedule your appointment. We have several options for smile restorations at our clinic in Roswell, GA, including partial and full dentures.