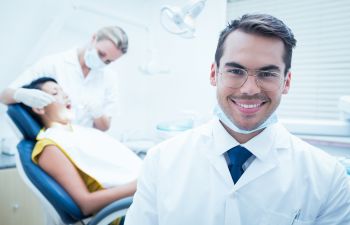 If you or someone you care for is a diabetic, it is vitally important that you realize the impact that this condition can have on your oral health. In fact, diabetes and dental health are a two-way street. Uncontrolled levels of blood sugar can increase your risk for certain oral health problems and poor dental health can make it more difficult to manage your diabetes.
At Mitzi Morris, DMD, we recognize that diabetic patients need more than just basic dental care. We are equipped to provide the special care that is needed for optimal gum health in those with diabetes.
As mentioned before, erratic blood sugar levels can lead to oral health complications for diabetics. The most common (and serious) of these is gum disease. Elevated blood sugar levels can cause gum inflammation. Gum disease may start as gingivitis, where the gums are sore, red and swollen. Advanced gum disease becomes periodontitis, which is identified by gums pulling away from the teeth. If left untreated, tooth loss can occur.
You may be well aware of the impact that blood sugar has on your immune system. Abnormal levels can suppress your immune system enough that fungal infections begin to occur in your mouth. This may include painful sores and swallowing difficulties.
Lastly, as a diabetic, you must have your blood sugar levels well under control before undergoing any type of oral surgery. If not, you may be at risk for delayed healing and infection.
At Mitzi Morris, DMD, we understand the connection between your oral health and your diabetes. Our office is willing to work closely with your endocrinologist to ensure your diabetes is well managed in relation to the health of your teeth and gums. We provide the latest in periodontal care to ensure diabetic patients keep gum disease at bay.