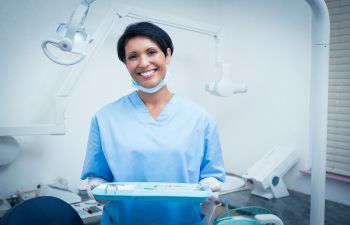 Smiling is something you should never avoid. At Mitzi Morris, DMD, we give patients every opportunity to show off their pearly whites. Unfortunately, years of smiling can create some unwanted signs of aging. Since crow's feet and laugh lines are caused by your smile, why not trust the same person who treats your smile to treat your wrinkles. Dr. Mitzi Morris is a skilled dentist who is uniquely qualified to administer Botox and Juvederm wrinkle treatments. Botox works by blocking the nerve impulses to reduce muscle activity that causes fine lines and wrinkles to form. Juvederm is made of hyaluronic acid, a naturally occurring substance found in your body, which adds volume and a subtle lift to the cheek area when injected.
Why choose a dentist to treat your wrinkles? Patients gain added convenience, assured safety, deserved comfort and enhanced smile results when they elect Dr. Mitzi Morris for their Juvederm or Botox treatments:
More Convenience: We all have busy schedules. Trying to squeeze in a Botox treatment and dental appointment in two different locations is difficult. By finding a dentist who can treat both your smile and your wrinkles, you gain the convenience you need. This also ensures that your dental care is not skipped or neglected because of tight scheduling.
Enhances Cosmetic Dentistry: Patients find that the best way to frame their newest smile improvement, whether it is veneers or teeth whitening, is to add a wrinkle remover procedure before they leave. Whiter and more attractive teeth can take years off of your appearance. Choosing a filler or injectable for the areas surrounding your mouth can enhance and show off your cosmetic dental investment even more.
Safer: This is perhaps the most notable advantage. Your dentist has specialized training and knowledge in your facial tissues, nerves, muscles and bone structure. By choosing a dental professional for your Botox or Juvederm, you can rest assured that they understand the precise placement of your injections for optimal safety and the most successful results.
Comfortable: A dentist understands the importance of a gentle touch when it comes to your mouth and face. In addition, a dentist is well experienced when it comes to giving injections. You can trust Dr. Morris for painless, comfortable wrinkle treatments. Many patients find that the sedation dentistry solution they used for their restorative or cosmetic dental procedure provides extended comfort during their Botox or Juvederm injection.
Trust Dr. Mitzi Morris to turn back the hands of time by providing both cosmetic dental services and wrinkle treatments in one convenient location. Keep smiling, and let us handle the wrinkle ramifications.