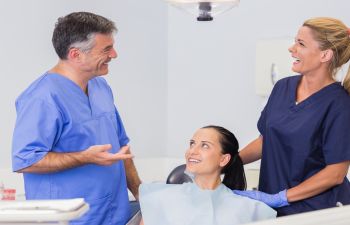 Has your dentist told you that you need a root canal? Don't panic. Contrary to popular belief, root canals are not painful. In fact, this time-tested endodontic treatment can save your dying tooth and bring you out of pain.
A root canal procedure is one of the most common dental procedures performed. It is a simple and non-surgical procedure that can revive an infected tooth and prevent the need for extraction. While a root canal procedures is not more uncomfortable than getting a dental filling, an infected tooth can elicit severe pain. Dr. Mitzi Morris uses state-of-the-art equipment and the most innovative techniques to ensure your root canal is not only painless, but also provides successful results to restore your tooth to optimal health and function.
What is a Root Canal?
A root canal is used to treat and save a tooth that is infected before further damage or spreading infection occurs. When done properly, a root canal is successful in 90% of cases. Root canal therapy involves removing the inside of the tooth, or tooth pulp, that is diseased or injured. Your tooth pulp is comprised of blood vessels that help build the surrounding tooth. Pulp can become infected from a variety of reasons including trauma, deep decay, cracks, chips or repeated dental procedures. Root canal therapy involves sanitizing the inside of the tooth as well as filling the canal with a special material to seal it off against future problems.
If you have visible injury or swelling of your tooth, sensitivity to temperature or pain in your tooth or gums, let our Roswell dental team know about it as soon as possible. Ignoring an infected tooth can lead to the need to remove and replace a permanent tooth.