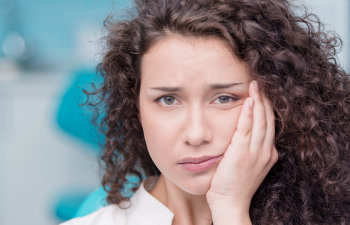 Your jaw joint, which is also known as your temporomandibular joint (TMJ), is one of the most powerful joints in your entire body. In fact, it's nearly impossible to go through the day without using your jaw joint. Your TMJ allows you to speak, eat and yawn. Considering its high demand, it is not surprising that the TMJ can become irritated or painful from time to time.
If it's your first TMJ flare-up, you may be able to remedy your jaw pain at home. Sometimes, just resting your jaw for several days can reduce the inflammation and discomfort. While we don't recommend not eating or speaking, you can treat your jaw pain by avoiding chewy or crunchy foods or eliminating chewing gum for a period of time. In other words, give your TMJ a rest and allow it to recover.
For many patients, they find that stress is linked to their TMJ pain. When we are highly focused or stressed, it is not uncommon to clench your jaw or even grind your teeth. You may even do this while you are sleeping!
Tips to Relieve Jaw Pain at Home
Whether you have jaw pain, jaw stiffness or tension headaches, your TMJ may need a little TLC to regain its comfort and function. If you are not ready to see a dentist about your jaw pain, consider these home remedies first:
Apply Moist Heat and/or Ice
Avoid chewing gum
Eat soft foods
Find ways to reduce stress
Support your chin/jaw when you yawn
Massage your TMJ
Take Ibuprofen
When You Need a Dentist
If your TMJ pain never stops or returns quickly after trying to treat it on your own, it is time to see a dentist. TMJ dysfunction that goes untreated can impact your daily living and quality of life, causing headaches, neck pain, ear pain and jaw stiffness. Call Dr. Mitzi Morris today to schedule your consult for jaw pain relief.