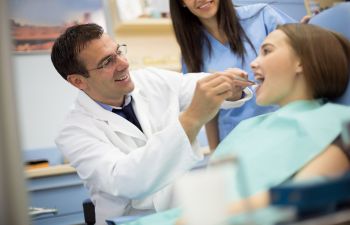 A cracked tooth is often something you'll feel before you see. In fact, many tooth cracks can produce excruciating pain or sensitivity, yet they may only be detected with a dental x-ray. If you suddenly notice a sharp but quickly dissipating pain when you bite down or chew, a cracked tooth is a likely culprit.
What Causes a Tooth to Crack?
Your teeth are made of the strongest substance in your entire body. Unfortunately, they can still suffer damage. There are numerous reasons why a tooth gets a crack, including the following:
Eating hard foods (nuts, hard candy, ice)
Trauma/Injury to the mouth
Teeth grinding or clenching
Uneven chewing pressure
Root canal treatment of brittle teeth
Decayed/Weakened tooth
A large filling or other restoration
What Causes a Cracked Tooth to Hurt?
Most cracked tooth cases involve a hairline vertical crack in the tooth. It can be surprising why such a tiny tooth fracture causes so much pain when you chew. The reason is that the crack will often open up when you bite down and put pressure on the tooth. This exposes the pulp or inner portion of the tooth where your tooth nerves reside. Even the slightest bit of air or temperature change can irritate the pulp and cause unbearable sensitivity. If you ignore a cracked tooth too long, the tooth center can become diseased or decayed, which will warrant root canal therapy to save your tooth.
Do you think you may have a cracked tooth? Seek treatment sooner rather than later. Dr. Mitzi Morris can repair your cracked, chipped or broken teeth with the best that modern dentistry has to offer. If caught early, small vertical tooth fractures can be repaired using dental bonding – a quick and affordable procedure at our Roswell office.