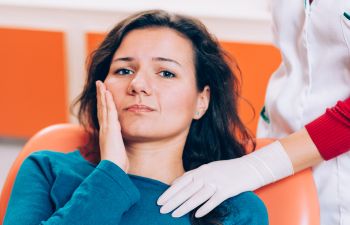 Few things are less tolerable than tooth pain. A toothache can be especially disruptive and frustrating if you wake up to the pain. It is not uncommon to have a tooth that only hurts after you've been asleep. While there are many reasons for dental discomfort in general, if your tooth pain only occurs in the morning, here are some potential culprits.
Bruxism
Sleep bruxism refers to the grinding or clenching of your teeth during the night. This can occur in patients of all ages, even kids. It is a subconscious habit that can be aggravated by stress, certain medications or misalignment. Unfortunately, sleep bruxism often causes morning tooth pain. The excessive forces on your teeth for hours while you sleep doesn't go unscathed. Patients may experience sore teeth, sensitive teeth, jaw pain, headaches or worn down teeth.
Temporomandibular Joint Disorder (TMD)
TMD is used to describe pain or dysfunction that occurs in the jaw joint. Beyond your sore teeth in the morning, you may also have pain in your face, neck and ears. An audible clicking noise or popping sounds may also present itself with your first morning yawn. Sleep bruxism is a primary cause of TMD, and a custom nightguard from your dentist can help.
Sinusitis
This is an inflammation or swelling of the sinuses. Due to the close proximity of the sinus cavities to the upper teeth roots, it can be easy to confuse sinus pain with dental problems, especially within the upper back molar region. Tooth pain that is related to sinusitis tends to be worse in the morning, when the fluid in your sinuses has accumulated while lying down. It is important to consider other symptoms you may having with this type of tooth pain, including sinus pressure, facial pain, fever, cough, nasal congestion, fatigue and bad breath. Treating your tooth pain in this case may need to come from your primary care doctor or ENT instead of your dentist.
It's not uncommon to wake up in the morning with tooth pain, but you shouldn't ignore it. The most common culprits for suffering from dental pain when you first awake is bruxism or sinusitis. However, dental issues like cavities, gum disease, impacted teeth and dental abscesses may also be at play. At the office of Dr. Mitzi Morris, we want to know about your tooth pain as soon as possible – regardless of what time of day it is occurring.