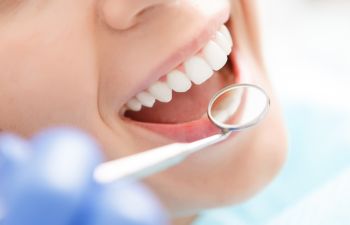 It may not be often that you stick out your tongue at yourself in the mirror. However, there's good reason to make this a habit periodically. Just like other parts of your body, your tongue can show changes in appearance that indicate an underlying health problem. If your tongue loses its smooth pink color and looks out of the ordinary, it may be time to do some investigating.
Here are some common reasons why your tongue may show unusual changes:
A Patchy Tongue
This may be a condition called "geographic tongue," in which patches on the tongue surface become red and mimic the outline of a geography map. Geographic tongue is an inflammatory condition and typically harmless.
White or Yellow Tongue
If you notice a white, yellow or pale coating on your tongue, you may have microbial growth due to excessive bacterial plaque and not properly brushing your tongue. Excessive oral bacteria can lead to a variety of dental health problems, ranging from bad breath to gum disease, decay and more.
If you have additional white patches inside your mouth or throat, this may indicate a yeast infection, which needs to be treated by a medical provider.
If there are white patches on your tongue, please see your dentist promptly. These lesions could be leukoplakia, and your dentist may want to monitor you for signs of oral cancer.
Black and/or Hairy
No one wants a dark, hairy tongue. However, this is used to describe what happens when the papillae (the little bumps on your tongue surface) lengthen instead of shed their cells. The longer papillae can easily stain from foods, drinks and cigarettes, and thus look like "black hairs." This is not a harmful tongue condition and is often temporary.
Bright Red and Swollen
It is common for your tongue to tell you which vitamins or nutrients your body needs. A bright red and puffy tongue can indicate a vitamin B deficiency. However, if you also have a fever, please see your physician promptly.
Do you have concerns about the appearance or health of your tongue? Contact Dr. Mitzi Morris. We recognize all parts of your mouth as vital to your dental health and overall health. Don't dismiss what your tongue may be trying to tell you.