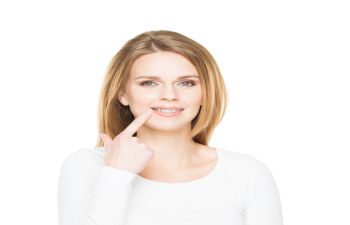 If you are currently wearing braces or considering this traditional type of orthodontics, you are on your way to a straighter, more attractive smile. Unfortunately, wearing braces requires some temporary sacrifice. While the need to avoid certain foods and habits during your braces treatment is inconvenient, you may also face some notable challenges in keeping your teeth clean while wearing brackets and wires. For this reason, orthodontic patients in metal braces are at greater risk for gum disease.
The Impact of Poor Dental Hygiene During Orthodontics
Dental plaque is a thin film of bacteria and food particles that accumulates on our teeth after meals. Brushing and flossing each day is the primary weapon to fight plaque buildup and avoid the cavities, gum disease and other dental problems it can cause.
If you are wearing braces, however, your toothbrush has a lot of extra materials to work around. Wires, bands and brackets can often stand in the way of a good dental cleaning. When parts of your smile are missed and plaque hardens in isolated areas, it can trigger irritation and infection within your gums. This is the first stage of gum disease, otherwise known as gingivitis. To make matters worse, teenagers in braces have the extra risk of surging hormones, which is known to contribute to gum disease.
There are some telltale signs that indicate poor cleaning habits while wearing braces. Among bad breath and staining, you may also notice that your gums are red, puffy and bleed easily. If you notice any of these warning signs, you'll need to take action right away to halt the serious threats of gum disease on your oral health and body health.
Preventing Gingivitis During Orthodontics
At the office of Dr. Mitzi Morris, we stress the importance of dental cleanings during orthodontics treatment, which includes what you do at home as well as how often you come to our office for a professional cleaning. It is common to see patients more than twice a year for these cleanings when they are wearing braces. Many patients also invest in special tools that can clean teeth better with braces, such as an interproximal brush or water flosser. If you are worried about the challenges that fixed metal braces can bring, you may also want to consider Invisalign. Invisalign is a clear removable aligner system that allows patients to remove their appliance to brush, floss and eat!
Call Dr. Mitzi Morris in Roswell to learn more about dental care during orthodontics.