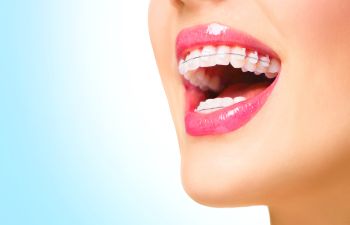 Countless patients undergo orthodontic treatment each year. Wearing braces can correct a wide range of misalignments in your teeth and promote a straighter, more attractive smile. While modern orthodontics include methods like Invisalign that make it easier to clean your teeth and gums during treatment, a large majority of patients still rely on traditional metal braces. Metal braces are highly effective, but they are also pose the most challenge when it comes to brushing and flossing.
You don't have to sacrifice the health of your teeth when trying to straighten them. However, you may have to put forth some extra effort. While brushing and flossing and steering clear of acidic beverages and sticky foods is important for any smile, one that is under brackets and wires is especially reliant on these healthy oral habits.
Brackets, rubber bands and wires create places for plaque and bacteria to hide and build up over time. To make matters worse, it is difficult for your toothbrush and floss to reach all these hiding places within your teeth and gums. Unfortunately, the presence of plaque and bacteria creates an open invitation for the following types of dental issues while in braces:
Gingivitis (swollen, red and bleeding gums)
Periodontitis (infected gum tissue)
Decalcification (white spots on teeth)
Cavities (areas of decay)
What Can You Do?
First and foremost, you'll need to up your oral hygiene game while you are wearing braces. This may involve brushing after every meal or using a special floss that is designed for orthodontic patients. You should also consider visiting your dentist more regularly, as a professional cleaning can go a long way towards keeping your smile healthy and stain-free during orthodontic treatment. Never assume that your frequent trips to the orthodontist are a substitute for routine dental checkups!
Patients in braces should also be extra mindful about what they eat and drink. You'll be told to avoid sticky candy and certain hard foods, as this will not only keep your brackets from breaking but also protect your teeth from harmful, cavity-causing substances. Remember that these dental care rules while in braces are only temporary, but they can ensure you are left with a clean and healthy smile when your braces come off!
Are you wearing braces? Are you concerned about the health of your teeth and gums? Call Mitzi Morris, DMD today. We can address your dental issues now so that your teeth can continue to straighten in their best condition possible.