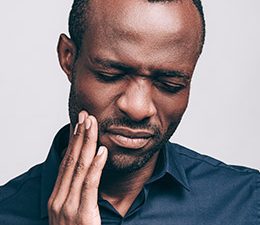 Thanks to antiquated techniques and outdated anesthetic methods, root canal therapy has a poor reputation for being a long, invasive and painful procedure. You should know, however, that this endodontic treatment is considered more of a hero than a villain in terms of your oral health. In addition, root canal therapy is not painful. In fact, patients report the same amount of discomfort during a dental filling.
With modern techniques and proper preparation, a root canal can save a dying tooth with minimal discomfort and side effects. For most, this essential treatment is what brings them out of pain from their infected tooth.
Still feeling uneasy about your root canal therapy? We understand at the office of Dr. Mitzi Morris. Therefore, to help you feel more confident and relaxed, we've listed five ways you can prepare for root canal therapy.
#1 Ask Questions   
As with any dental procedure, give yourself the freedom to ask questions. This can include asking why you need a root canal, what happens if you delay treatment and what you can expect in terms of appointment time and recovery. We want patients to feel informed and empowered when it comes to their dental care plan.
#2 Schedule Your Appointment as Soon as Possible
Root canal therapy removes infected pulp from the inside of a tooth. Infections can't wait to be treated without running the risk of further infection and progressive damage. In fact, an infected tooth that is left untreated can lead to tooth loss and secondary medical conditions within your body. If your dentist recommends a root canal, go ahead and get it on the calendar promptly.
#3 Follow Dentist's Instructions
Your root canal is not a major oral surgery. However, there may be specific directions that your dentist wants you to follow before your scheduled appointment date. This may include taking a course of antibiotics to keep the infection at bay as well as not eating to prepare for a certain sedation method the day of your procedure. Make sure you know the guidelines for taking your medications the day of your appointment.
#4 Avoid Foods and Substances That Can Compromise RCT  
Certain foods and substances can affect the way your body heals and thus compromise your root canal therapy. To prepare for your procedure and foster optimal healing, you may be asked to avoid alcohol, excessive caffeine, tobacco products and aspirin.
#5 Consider Your Comfort Needs During and After the Procedure
While root canals are not excessive in length, they do take more time than many other dental treatments. Therefore, in addition to choosing a sedation method, you may also want to consider the type of clothing you wear to your appointment and anything else that may limit your ability to be comfortable. Patients should also arrive well-hydrated. Having a variety of soft-foods on hand for when you return home is also a good idea. Finally, follow your dentist's guidelines for recovery, which may include specific cleaning techniques, antibiotics and a scheduled follow-up appointment.
Dr. Mitzi Morris is known for excellent, patient-centered care. If you have questions or concerns about your upcoming root canal therapy, please call our office. We want to alleviate your stress surrounding this important endodontic procedure.