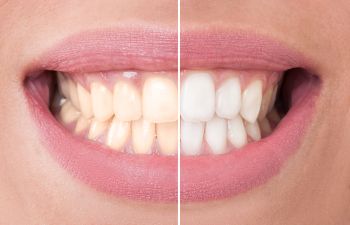 We live in a fast-paced society where our daily tasks, wants and needs can often be accomplished with a touch of a button on your smartphone. Today, we don't have to wait long to get something we really want, whether it is ordering a new product from Amazon or downloading a favorite movie from Netflix. It is understandable, therefore, that when patients decide they want a whiter smile, they demand a convenient process with fast results. Fortunately, that's an option when you choose a dentist who offers ZOOM!® Teeth Whitening.
To appreciate the benefits of ZOOM!®, you should understand how it compares to those over-the-counter products you see at your local pharmacy or grocery store. In fact, there are numerous mouthwashes, toothpastes and special strips that claim to make your smile sparkle more. Unfortunately, these store-bought products have a limited amount of whitening agents, which means they are less effective or they may take repetitive use to see any results – that translates into more money spent on products and more days, weeks or months waiting to see whiter teeth.
In addition, over-the-counter whitening products are not customized for your unique smile. You may wear a whitening strip that doesn't even cover all of your teeth – which can really be a problem if you end up with an uneven whitening job across your smile. Finally, using an at-home kit from the store doesn't leave room for you dentist to oversee your treatment, and it is important that your oral health is not compromised in your efforts to attain a more attractive smile.
ZOOM is the Quickest and Safest Way to a Brighter Smile
By choosing ZOOM!® to whiten your teeth, you'll reap remarkable benefits. First and foremost, your smile can be transformed into a whiter, more youthful version in just under an hour. That's right – in 60 minutes or less, you can accomplish your whitening goals. Not only is ZOOM!® fast, but it is also highly effective. The system uses medical grade whitening agents that are activated by a special light. You'll sit comfortably under the light while the powerful ZOOM!® formula goes to work to remove stains and erase that dingy smile. Not only can you lighten your smile by several shades, but you won't have to worry about your teeth or gums being extra sensitive afterwards. The entire process is overseen by your dentist so you'll never have to question the safety of ZOOM!® Whitening.
Ready to schedule your one-hour teeth whitening session? Call Mitzi Morris, DMD. We love giving patients a fast and effective solution to a more attractive smile!