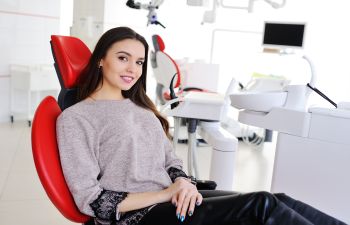 Most of us know that fillings are what dentists use to repair cavities. For over a hundred years, a material known as amalgam was used as a dental filling. This material is superior in durability and strength, but sadly, it is equally unattractive. Amalgam fillings have fallen out of favor in place of the more aesthetically pleasing composite fillings, which are customized to mimic the color and shape of your teeth without the use of metal.
During Your Tooth-Colored Filling Appointment
The dentist begins by getting an X-ray of the tooth to see how deep the cavity goes. We want to make sure the pulp chamber and root will not become irritated by the process. The patient is then numbed with an oral anesthetic, and once successfully numbed, treatment begins. The cavity is cleaned of the decay. To do so, a high-speed hand-piece is used first, followed by a low speed hand-piece device. The rest of the cleaning process is carried out by hand to ensure healthy tooth structure isn't removed and the nerve has a lesser chance of becoming irritated.
When the cavity is sufficiently cleaned, a chemical etchant is placed for ten seconds to roughen and desiccate the surface. An adhesive bonding is applied carefully with a tiny brush, and a special ultraviolet light is used to cure the adhesive. Now, the tooth is ready to be filled with a custom-matched composite filling.
The small ultraviolet light is used again to harden and cure the composite filling. In most cases, a dentist will apply the composite in several layers, depending on how deep the cavity. You now have a new, stronger tooth. The doctor shapes the tooth and smooths out any rough spots. When you look in the mirror, it may be hard to tell where the cavity was located. This entire process takes just minutes to complete!
If you'd like to know more about what happens during your general dentistry visits at Dr. Mitzi Morris in Roswell today.