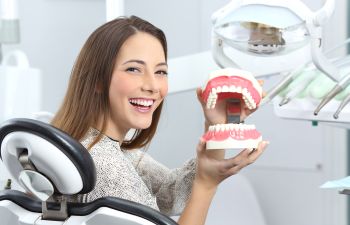 Due to their primary role of grinding our food and their hard-to-reach location in the back of the mouth, the molars can be extra vulnerable to damage. Not only can these teeth suffer a fracture from biting down on something too hard, but they can also become weak and damaged when decay is not treated in a timely manner. The molars aren't always easy to keep clean due to their pits and grooves and out-of-sight position in your mouth. Just like any tooth in your smile, however, damaged molars need repair and there are three main ways a dentist will do it.
Depending on the type and severity of the tooth damage, a molar can be restored with the following popular dental treatments:
Dental Filling

Small chips and cracks may be conservatively treated with dental filling or bonding. This easy and painless procedure uses tooth-colored composite resin to fill areas of lost or weakened enamel. Fillings are the first line of treatment for small cavities, which are essentially tiny holes in the tooth enamel created by decay.

Dental Inlays and Onlays

There are times when a tooth is damaged beyond what a dental filling can repair, yet not severe enough to warrant a dental crown. In such cases, a dental inlay or onlay can be used. Inlays involve tooth-colored materials that are bonded to the inside surface of molar. If the damage extends further, an onlay can be used to cover the entire biting surface or one or more cusps of a tooth.

Dental Crowns

A dental crown is designed to provide a "cap" for a tooth that is more severely damaged, with the ability to cover all visible surfaces of the affected tooth and restore it for years to come. A tooth may need a crown if it has severe decay, infection or damage to its structures. In such cases, the life of the tooth may be in danger if a crown is not placed. Dental crowns are also frequently used following root canal therapy to ensure the integrity and strength of the tooth is regained. Whether you have a crack in your tooth that has penetrated the tooth center or your tooth was significantly broken in an accident, a dental crown is a trusted and highly effective solution.
If you have one or more teeth that are compromised in any way, you can trust Dr. Mitzi Morris for unrivaled care. When it comes to dental fillings, onlay, inlays or crowns, we provide top quality results using comfortable treatment techniques.