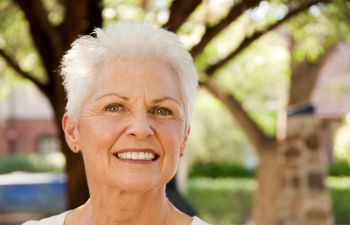 Teeth are designed to last a lifetime, but they will always demand proper care to retain their condition. While it is common to focus on cavity prevention for kids, the aging adult is also susceptible to a certain type of decay. If you were born prior to the 1970's, you may be facing root decay.
What is Root Decay?
Most people think of decay or cavities like the type that develops on the chewing surfaces of your teeth, otherwise known as "pit and fissure" cavities. These are cavities that are largely prevented due fluoride and other dental care methods. If you were born before 1970, however, you probably did not get fluoride from your drinking water.
Root decay, however, only affects the root of the tooth. Tooth roots are especially vulnerable to damage, as they are not covered by hard enamel like the rest of your tooth and are composed of living tissue. Comparing the rest of your tooth to the tooth root is like comparing glass to wood. When bacteria lingers along the tooth root, it can quickly eat away at the surface and cause root decay. In a healthy mouth, the gums cover the tooth roots and bacteria gets cleaned from this area of the tooth in a timely manner.
Why Are Seniors More Susceptible?
The aging adult can be more at risk for root decay than the younger population due to the fact that they face many of the situations that cause this type of decay. The major causes of root decay are:
Receding gums
Dry mouth
Sucking cough drops, mints and candy
Poor oral hygiene habits
Treating Root Decay
A skilled dentist can treat root decay, but it can pose more challenge than simply repairing a traditional cavity on the top of a tooth. This is due to the fact that the tooth root is much closer to the nerves of the tooth, so nerve exposure is a risk when removing root decay. This can result in the need for a root canal and crown to save the tooth and prevent discomfort. Even when the nerve is not exposed, however, damage to the tooth root makes the tooth more vulnerable to future fracture so a root canal and crown is a common demand in treating root decay.
Preventing Root Decay
Just because you were born prior to the 1970's does not mean root decay is inevitable. You can adhere to the following to help prevent root decay and other dental problems as you age:
Eat balanced diet
Avoid sucking on sugary candy
Use fluoride toothpaste
Practice better brushing and flossing
Treat dry mouth
See your dentist every six months
How long has it been since you had a dental checkup? Dr. Mitzi Morris is a caring and talented dentist for all ages, from preschool to geriatrics. Schedule your appointment today.