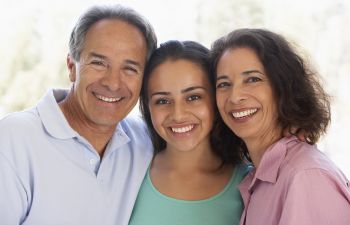 It's the strongest muscle in your body. Are you taking care of it? Your tongue delivers powerful capabilities, allowing you to speak, taste and swallow. However, your tongue can also be the culprit to bad breath, gum disease and other disruptive problems if it is not cleaned properly.
Why is tongue cleaning so important? Bacteria! Your tongue can harbor millions of bacteria on its surface. In fact, 50 percent of the total bacteria in your mouth live on your tongue! While you may be diligent to brush bacteria and food particles off your teeth and gums, you are sabotaging your efforts if you neglect to scrub your tongue. That bacteria will only get reintroduced to your pearly whites within minutes after you brush. By effectively removing the bacteria on your tongue each time you brush, you can avoid the following:
Bad Breath: The leading cause of halitosis is a dirty tongue!
Gum Disease: If bacteria continues to linger in your mouth after you brush, you'll leave your gums vulnerable to irritation and infection.
Decay: Cavities need bacteria and food particles to form. Your tongue may be the source for these substances if you skip your tongue scraper.
Tongue Brushing Tools
While your toothbrush is sufficient and better than nothing at all, there are specific dental tools you can buy to clean you tongue. Consider investing in a tongue scraper, which is a soft, flexible plastic device that gentle scrapes bacteria and debris from the back of your tongue to your front. Another handy tool is a tongue brush, which contains special bristles to clean the grooves of the tongue. Make sure you rinse these tongue brushing tools during and after use.
As far as technique, try to go from front to back. Also, do your best to cover all surfaces of your tongue, not just the top! If you're still not sure how or when to brush your tongue, we are happy to help you at Mitzi Morris, DMD. We love helping patients maximize their oral hygiene routines. Don't clean your mouth halfway by ignoring your tongue.