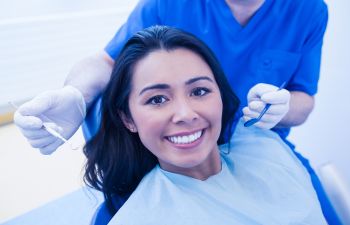 Wisdom teeth are the third and last molars to emerge in the back of the mouth. In reality, these four back teeth don't serve any significant purpose in terms of their function. Instead, they tend to become impacted or erupt sideways due to lack a jaw space. This can create a host of unwanted oral health challenges and discomfort. For this reason, many dentists recommend wisdom teeth extraction for late teens or early adults, especially when these molars are showing signs of trouble or potential disruption.
Wisdom teeth removal is a simple oral surgery that is performed with high success rates. However, just like any other surgical procedure within the mouth, a period of recovery and downtime is necessary. After the teeth are removed, the gums will be closed with stitches. It is important to do everything you can to protect healing in this area of the mouth so that your recovery period is not delayed.
Treatment guidelines following tooth extraction includes oral cleanliness and certain rules for after your procedure. Most pain can be managed by over the counter medications and swelling is eased with cold compresses. Specific post-operative instructions will be given to you by your dentist or oral surgeon. However, here are some general rules for eating and drinking after wisdom teeth extraction.
How Long Should You Follow the Recommended Eating Plan?
Patients who had their wisdom teeth extracted need to follow a particular eating plan for a minimum of 2 to 3 days. This allows time for the gums to form blood clots. It is critical to follow to this advice in order to protect the area and prevent irreversible nerve damage.
What You Should Drink While Recovering
After the wisdom teeth removal, your diet should foster a neutral environment within the mouth to meet nutritional requirements without causing irritation to the soft tissues that are trying to heal. We recommend that our patients drink plenty of water within the first 24 hours after removal to increase hydration. Please avoid alcohol and hot beverages as well as carbonated and caffeinated drinks. Most important, do not drink through a straw, as this can disrupt the blood clot that needs to form at the surgical site.
What Should You Eat After Wisdom Teeth Removal
It is not surprising that soft foods are best. However, we also suggest choosing foods that are nutrient dense as well as cold and neutral in acidity. Examples of good food after wisdom teeth extraction include as applesauce, yogurt and pudding. Make sure to stay away from hot, spicy, and crunchy foods, which will inhibit the healing process.
If you are experiencing an aching jaw or tenderness as your wisdom teeth emerge, talk to Dr. Mitzi Morris. We may recommend removing these back molars to relieve your discomfort and prevent future complications. Call our Roswell office today to learn more about wisdom teeth removal from a caring and trusted dentist.