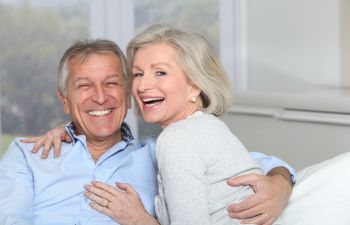 When it comes to replacing missing teeth, patients have options. Dentures, partials, and bridges are all common solutions for restoring a smile. However, there is another tooth replacement option that stands far superior: dental implants. Dental implants are a gold standard solution, and one that has undoubtedly changed the face of modern dentistry. Dental implants can be used to replace a single missing tooth or a complete arch of teeth. They can replicate your natural smile in look, function and feel better than any other option available.
Dental implants involve the surgical placement of a titanium, bio-compatible post into the jawbone. Over time, the implant fuses to the bone and serves as an artificial tooth root for a prosthetic tooth (dental implant restoration) to be placed on top. Dental implants can be used in a variety of ways, such as securing a single dental crown or to anchor a complete denture.
Here are some key reasons why dental implants are worth the extra investment:
Maximum Stability: When your prosthetic teeth are securely anchored into your jawbone, you won't have to worry about stability as you chew, eat and laugh. Not only does this mean you can enjoy dietary freedom, but you will also lead a more confident lifestyle. This is the hallmark advantage of dental implants compared to traditional dentures.
Better Convenience: Dental implants can be cared for just like your natural teeth. There is no need to hassle with messy adhesive creams, special cleaning regimes or frequent adjustments.
Bone Loss Prevention: Dental implants are the only way to avoid the consequential bone loss that occurs with missing teeth. Your jaw bone requires proper stimulation to retain its density and form. Without this, the bone atrophies and a sunken or hallowed facial appearance can occur. Dental implants provide an artificial tooth root that keeps the bone stimulated and healthy.
To learn more about why dental implants are considered an unrivaled solution in restorative dentistry, please give us call our Roswell office. Dr. Mitzi Morris has received extensive training in the repair and restoration of dental implants and has had many years of experience working in this facet of cosmetic restorative dentistry.