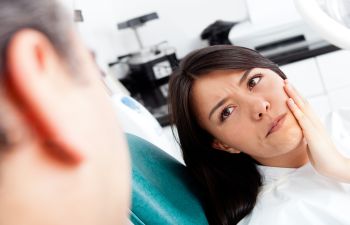 When it comes to dental procedures that get a bad rap, root canals are at the top of the list. Many people wince at the thought of getting a root canal. Unfortunately, this negative connotation couldn't be further from the truth. Contrary to popular belief, root canal therapy is not painful. In fact, patients report the procedure feeling much like getting a cavity repaired. Thanks to advanced techniques and sedation dentistry, you don't have to worry about enduring extreme discomfort during this important endodontic treatment. Instead, you can focus on the numerous benefits of following through with RCT when it is recommended.
Why is Root Canal Therapy Suggested?
When the inner chamber of a tooth has become infected or damaged, the tooth is at risk for survival. It should also be noted that the nerves of the tooth reside in this inner chamber, so any compromise to the area will produce significant pain. Whether you've suffered a traumatic injury to the tooth, prolonged decay, or an infection that creeped into the tooth center, a root canal is the only procedure that can relieve the pain and save the tooth!
What Happens During RCT?
During the procedure, you'll be given a local anesthetic to numb the affected tooth area. Many people also choose sedation dentistry to help them relax further. Next, a tiny canal or pathway is created into the center of the tooth. The infected pulp is removed and the inner tooth structures are sanitized to eliminate lingering bacteria. Finally, a special, rubber-like material (called gutta-percha) is used to fill the tooth for future protection. Most patients will also need a custom crown following their root canal. This ensures the previously damaged tooth is restored to its optimal strength and integrity.
Isn't a Tooth Extraction Quicker and Cheaper?
Many patients who have an infected molar (back tooth) may falsely assume that an extraction is a better option than getting a root canal. If it is money that you are trying to save, you should know that once your tooth is removed, it will need to be replaced. Restorative dentistry services, such as dental implants, are far more complex and costly than root canal therapy. Not to mention, neglecting to replace a missing tooth can result in shifting of neighboring teeth, eating problems, bone loss and other complications.
If you are suffering from the pain or sensitivity of an infected tooth, don't let the thought of root canal therapy scare you away. It is not only a painless procedure, but it is one that can restore your comfort and save your smile. Call Dr. Mitzi Morris in Roswell to book your appointment.