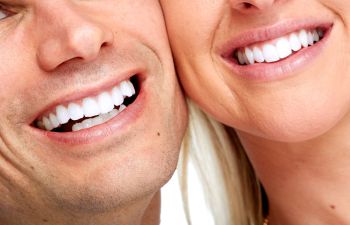 When you think of something getting stained or discolored, you often think of dark colors or dyes that taint a white or lighter surface. Therefore, it is understandable why people think of tooth stains the same way. However, it is not just the dark color of that coffee or red wine that is causing stains, it is also the acids.
If you want to stay away from foods and drinks that can threaten your white smile, consider two words "dark and acidic." If your food or drink has both, you'll need to be sure to rinse or brush immediately after you consume it.
Let's take a look at how the acidic property of several tooth staining foods and drinks contribute to discoloration:
Coffee, for example, is obviously dark in color, but it is also very acidic. The acids disrupt the pH balance of your entire mouth as well as erode the enamel of your teeth. Once the outer enamel of your tooth wears thin, the inner dentin layer is more visible. Unfortunately, dentin is more yellow than white, which projects a dingy rather than brilliant smile.
Wine is another example of how acidic beverages can stain your teeth, especially if it is red wine. The acids create tiny holes or pockets on the surface of your teeth, which allows the dark colored beverage to soak in even deeper. You can also end up with a yellowed smile even if your beverage or food is not dark in color. Certain light-colored citrus fruits or white wine can also damage your tooth enamel and taint your smile shade.
Regain Whiter Teeth
Fortunately, there are ways to reverse most common tooth stains. At Mitzi Morris DMD, we offer ZOOM Whitening, which can effectively lighten your teeth by several shades in just under an hour. For severe discoloration, veneers or lumineers may be considered. Never underestimate the power of a whiter smile. In fact,one study shows that those with white teeth were "perceived as more socially competent, smarter, more satisfied with their relationships, and more psychologically adjusted.