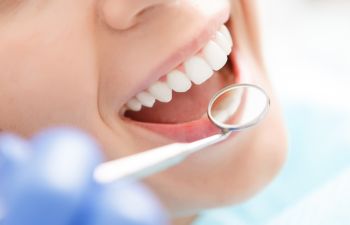 Do you constantly hide your smile, or try to avoid smiling at all? If the aesthetics of your teeth are what is causing you to hold back, cosmetic dentistry should be on your radar. There are countless services in cosmetic dentistry to correct gapped, discolored, chipped and misshapen teeth. You can gain improved self-confidence and freely allow yourself to smile. A smile is not only the most noticeable facial expression, but it is also one of the most powerful.
What is the power behind a smile? Research has proven that just by showing off your pearly whites, you can reap the following benefits:
Stress Relief
Who doesn't need less stress in their lives? The act of smiling actually reduces the level of stress-induced hormones in your body, which are the ones that impact your mental and physical health in a negative way. In fact, smiling relaxes your body and mind in the same way a good night's sleep can do!
Better Mood
One of the quickest and surest ways to lift your spirits is by smiling. Studies show that even if you are in a bad mood, a simple (and even forced) smile can instantly help you feel better.
Stronger Immune System
As mentioned previously, smiling helps the body relax. In turn, the body can function better and the immune system stays stronger and able to ward off sickness.
A Powerful First Impression
A smile can be recognized up to 300 feet away. Smiling also ranks at the very top of the list for the most attractive features.
Weapon for Career Success
Recent studies reveal that those who smile more at work are more likely to get a promotion. This is undoubtedly due to the fact that smiling conveys desirability and confidence.
Are you taking advantage of these powerful benefits of smiling? Or are you missing out due to imperfect teeth? If the appearance of your smile is your obstacle, contact Dr. Mitzi Morris in Roswell. We offer excellence in cosmetic dentistry, giving patients the opportunity to improve their dental aesthetics with a wide variety of services, ranging from teeth whitening and bonding to porcelain veneers and more.