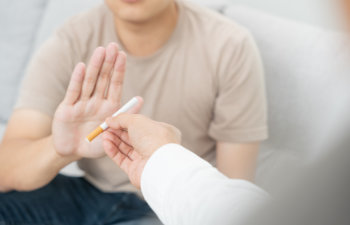 Without question, dental implants are an innovative and reliable solution for restoring missing teeth. However, certain habits, such as smoking, can have a detrimental impact on their success and overall oral health. At the office of Mitzi Morris, DMD, we educate patients about the adverse effects of smoking on dental implants and why it's essential to quit smoking for the long-term success of your smile restoration.
Understanding Dental Implants
Before we delve into the effects of smoking on dental implants, let's briefly understand what dental implants are. Dental implants are titanium posts surgically placed into the jawbone to replace missing tooth roots. Over time, the bone fuses with the implant through a process called osseointegration, providing a stable foundation for a custom-made artificial tooth, known as a dental crown. Dental implants offer numerous advantages, including improved chewing function, natural appearance, and enhanced self-confidence.
How Smoking Impacts Dental Implants
There are multiple consequences and serious risks involved for patients who continue smoking despite their recent dental implant surgery, including the following:
Delayed Healing: Smoking is known to compromise blood circulation, which is vital for the healing process after implant surgery. Reduced blood flow can lead to delayed healing around the implant site, increasing the risk of infections and complications.
Increased Risk of Infection: Smoking weakens the immune system, making it more challenging for the body to fight off infections. This can result in peri-implantitis, a severe inflammatory condition similar to gum disease, but affecting the tissues around the dental implant. If left untreated, peri-implantitis can lead to implant failure.
Bone Loss: Successful dental implantation requires adequate bone density and volume. Smoking can interfere with bone metabolism, leading to reduced bone density around the implants. This bone loss, known as osteoporosis, weakens the foundation of the implant, jeopardizing its stability and longevity.
Implant Failure: Due to the aforementioned factors, the risk of dental implant failure significantly increases in smokers compared to non-smokers. Implant failure often results in the need for costly and time-consuming revisions or replacements.
Compromised Aesthetics: Smoking can stain teeth and dental restorations, including dental crowns, affecting the aesthetics of your smile. This can be particularly concerning for individuals who have invested in dental implants to improve their smile's appearance.
The Importance of Quitting Smoking
While the effects of smoking on dental implants can be worrisome, the good news is that quitting smoking can significantly improve the chances of successful implantation and long-term oral health. Here's why:
Enhanced Healing: By quitting smoking, you promote better blood circulation, enabling your body to heal faster and reducing the risk of complications after implant surgery.
Reduced Infection Risk: A smoke-free lifestyle strengthens your immune system, making it more effective in fighting off potential infections, ensuring the health of your dental implants.
Preserved Bone Density: Quitting smoking can help slow down bone loss and maintain better bone density around your dental implants, increasing their stability and durability.
Long-Term Dental Health: Beyond the realm of dental implants, quitting smoking offers a multitude of benefits for your overall dental health, including reduced risk of gum disease, tooth decay, and oral cancer.
Contact a Roswell Dentist for More Implant Dentistry Insight
As an esteemed dental professional, Dr. Mitzi Morris in Roswell emphasizes the critical importance of understanding how smoking affects dental implants. Quitting smoking is undoubtedly one of the best decisions you can make to safeguard your oral health, enhance the longevity of your dental implants, and enjoy a confident, radiant smile. Not to mention, you'll be protecting a notable investment you've made towards your dental health.
If you're considering dental implants or seeking guidance on improving your dental health, our team at Dr. Mitzi Morris's practice is here to assist you in Roswell.