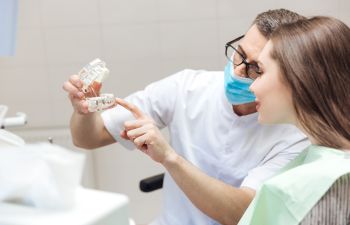 If you are considering or undergoing implant dentistry to replace missing teeth, you probably know there is a set and timely process involved. When it comes to replicating a natural tooth in form, function and appearance, you simply can't do better than a dental implant. Dental implants are a permanent form of teeth replacement that can be used to anchor a single prosthetic tooth or a full implant denture. Unlike other options, they also replace the missing tooth root, which means implants can provide long-term stability for your prosthetic teeth as well as help you avoid bone loss over time.
The process of dental implants typically starts with letting an implant dentist determine your candidacy. Unless bone grafting is needed beforehand, the next step is to have your implants surgically placed in your jaw bone. The following stage is healing, and it undoubtedly a critical step. During the next 3 months, your titanium implant will heal and fuse to the surrounding bone during a process called osseointegration. Once this takes place, you've got a firm foundation to anchor your prosthetic tooth or teeth.
At Mitzi Morris, DMD, we have the honor and privilege of providing the final and most rewarding step in your implant treatment, which involves placing the implant restoration on top of your implant and attaching it to the abutment piece that shows above the gum line. Your implant restoration is what you and everyone else will see when you flash your smile. Depending on your unique needs and how many teeth are being replaced, your implant restoration can include:
• A single dental crown
• An implant-supported bridge
• A full overdenture or implant-supported denture
What You Should Know About Choosing Us For Your Implant Restoration
Dr. Mitzi Morris brings superior skill and talent to your final implant restoration. We use advanced technology to gather detailed information and precise measurements for your prosthetic teeth that will be secured on top of your implants. This includes making sure your restoration is custom crafted in size, shape, form and color. Whether we are placing a custom crown or an implant denture, the goal is to provide an artificial tooth that replicates your natural tooth in every way possible. Not only do we want you to be able to care for your implant restorations like you would your real teeth, we also want your crown or bridge to be indistinguishable from the rest of your natural smile. If you implant restoration suffers damage, always see us promptly. We can provide the repairs you need to protect your overall investment in implant dentistry!
Ready to schedule your final phase of implant dentistry with an experienced and caring provider – call Mitzi Morris, DMD!