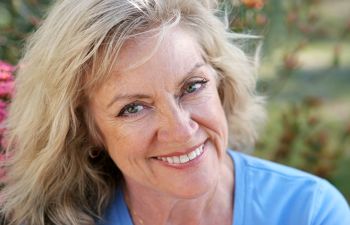 White teeth foster a healthy, attractive and youthful appearance. Unfortunately, everyday eating and drinking habits can make it hard to keep teeth white. Professional teeth whitening is designed to brighten teeth that have become dull, discolored or stained by dark-colored foods and beverages. Most patients are excellent candidates for teeth whitening, but it is important to understand what to expect if you have prosthetic teeth, dental restorations or other dental types of dental work.
While modern dentistry offers materials and products that mimic natural teeth in remarkable ways, you can't expect veneers, crowns or bridges to act exactly like real tooth enamel. To this end, these dental restorations don't respond to professional whitening treatments like your natural teeth. That doesn't mean you have to settle for stained teeth within your smile. However, you'll need to understand the best way to go about whitening if you have fake teeth.
Order Matters
If possible, it is best to whiten your natural teeth before getting dental restorations. This ensures your dental restorations can be fabricated to match your new brilliant tooth shade. In addition, certain dental materials, like porcelain and ceramic, may become damaged by strong or frequent whitening treatments. For a seamless and white smile, get your natural teeth the shade you want them before you undergo dental implants, a bridge or porcelain veneers.
If you have minor or superficial stains on a crown or tooth-colored filling, you may be able to safely remove them with whitening treatments. However, it is important to consult your dentist before doing so. The good news is that most modern dental restorations are stain-resistant, which means even though they don't whiten like real teeth, they also don't stain like real teeth.
What if you already have a dental restoration and want to change the shade of your smile? You can! One option is to may replace your prosthetic teeth or fillings to match your whitened enamel. Don't ever assume you are stuck with a lackluster smile because you've had dental work.
To learn more about professional teeth whitening or how to retain your results, contact Dr. Mitzi Morris.