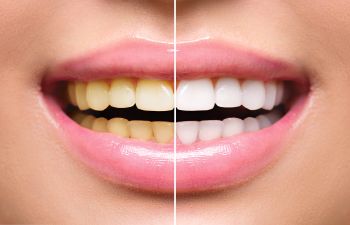 Do you wish your smile was brighter? White teeth are highly desirable for teens and adults of all ages. Not only do whiter teeth look healthier, but they can even make you look younger, increase your chances for a promotion at work and boost your overall self-esteem. Unfortunately, there are many factors that can sabotage white teeth. From coffee and dark berries to smoking and the natural aging process, teeth have a common tendency to lose their brilliant hue and become more yellow over time.
Don't worry; you don't have to live with your lackluster smile. Cosmetic dentistry offers a variety of options when it comes to reversing tooth stains. In general, there are three primary options in teeth whitening:
Over-the-Counter Products

Many patients try to lighten their teeth using store-bought products. Your local drug store shelves plenty of gels, kits, strips and toothpastes that claim to whiten your teeth. While these may be able to produce subtle results over time, they are not best for more dramatic and quick improvement. In addition, over-the-counter products are not used under the supervision of your dentist. Don't be surprised if you end up with sensitive teeth or irritated gums.

Take-Home Kits

If you prefer the comfort and convenience of whitening your teeth at home, yet you want professional grade results, consider asking your dentist for a take-home whitening kit. Your dentist will create custom trays for your smile to ensure that your teeth are whitened more evenly and effectively than store-bought kits. In addition, you'll be given a professional whitening gel or bleaching agent that is stronger than what you'd find in the store. Finally, your whitening treatment can be approved and monitored by your dentist for optimal safety. Take-home whitening is excellent for patients who want the freedom to use their whitening trays more frequently for better results or as a maintenance regime.

In-Office Whitening

For patients that want immediate whitening results (perhaps before a big event), scheduling an in-office whitening treatment is best. Professional in-office whitening typically involves the application of a high-powered whitening gel that is activated by a special light. Using this method, patients can lighten their smile by up to several shades in just an hour. Rest assured that this process is both comfortable and safe.
At the office of Dr. Mitzi Morris, we want each patient to obtain the white, dazzling smile they desire. However, we also recognize that each patient has different clinical needs, personal preferences and budget concerns when it comes to whitening their teeth. We are here to help you weigh the pros and cons of each method so that you can make a confident decision towards a more attractive smile. Our Roswell clinic proudly offers ZOOM! Teeth Whitening as one of the most preferred solutions in cosmetic dentistry.