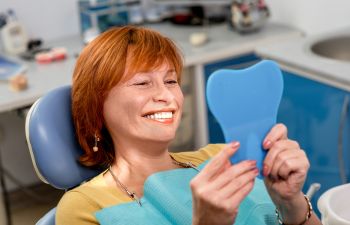 We can't stop the process of aging. While decades of living earns us wisdom and maturity, it can also our physical bodies to become worn down, wrinkled and less attractive. Fortunately, there are ways to turn back the hands of time and regain a youthful appearance despite your age. When it comes to your smile, the solutions can even be quick, non-invasive and affordable!
The Aging Smile
Just like other parts of your body, time can take its toll on your teeth and surrounding tissues. Not only can your teeth become chipped or worn down as you get older, they can also become stained or dingy over time. This can occur regardless of whether or not you are a smoker or avid coffee drinker, as the enamel of your teeth commonly wears thin during the natural aging process. Years of smiling and making other facial expressions can also cause deep creases and wrinkles in the skin around your mouth, from your lips and cheeks to your eyes and forehead. A skilled cosmetic dentist can address many of these issues – in just minutes!
Quick Cosmetic Dental Procedures for a Youthful Smile
There are a number of cosmetic dental procedures available, including a few that are especially quick, convenient and highly effective for reversing an aged appearance. If you want to reclaim a youthful smile without lengthy office visits, consider these top three cosmetic procedures from cosmetic dentist Dr. Mitzi Morris:
Teeth Whitening:  In just one hour, our ZOOM Teeth Whitening treatment can lighten your teeth by several shades. Whitening your smile can instantly make you look more attractive and years younger! If you have yellow teeth or stubborn stains caused by dark foods and beverages, professional in-office whitening is the perfect solution to reclaim a confident smile.
Bonding: Using a special tooth-colored composite resin, a cosmetic dentist can address a wide variety of minor cosmetic concerns. Bonding is another quick and painless procedures that can fix minor tooth gaps, chips and stains that may have occurred as you've aged.
Botox: An elite group of cosmetic dentists also offer Botox injections as part of their smile enhancement services. With the highest level of convenience and expertise, patients can instantly erase stubborn frown lines and other wrinkles on an aging face. Botox naturally relaxes the muscles that cause persistent creases in the face so that a smoother and more youthful complexion can be achieved.
Ready to take advantage of our most convenient and quickest services in cosmetic dentistry? Teeth whitening, bonding and Botox have been used by many aging adults as an excellent means of turning back the hands of time with minimal sacrifice in time, money and commitment. Call Dr. Mitzi Morris today to learn more about how cosmetic dentistry can help you look younger.