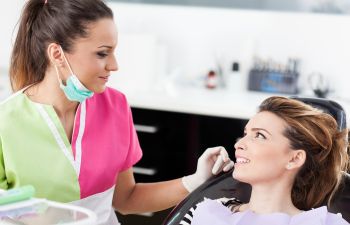 Gum disease, or periodontal disease, is one of the most serious oral health conditions. While you may not see notable damage on the outside, progressive gum disease can do irreversible damage on the inside. This include damage to the gums, tooth roots and jaw bone as well as your cardiovascular health if it is not addressed. In fact, gum disease has been linked to many overall health problems, including heart disease, stroke, diabetes and premature birth.
Fortunately, when gum disease is treated early, patients can avoid these complications as well as benefit from more conservative treatment methods. Undetected and left alone, however, gum disease will progress to its most advanced stage of periodontitis. Therefore, routine dental exams become even more important, as these are visits that allow your dentist to watch for signs of early gum disease (gingivitis), such as receding gums, swollen gums or bleeding gums.
Depending on the stage and severity of your periodontal disease, Dr. Mitzi Morris will recommend the most effective treatment option. We offer a variety of modern methods to eliminate the infection within the gums and protect the future health of your smile. In most cases of early gum disease, we are able to perform dental scaling and root planing to stop gum disease before it threatens your health or causes tooth loss.
What is a Deep Cleaning?
Dental scaling and root planing is the procedure of choice for early stages of gum disease, or gingivitis. This is often referred to as a "deep cleaning" and it is the most conservative and effective method for treating gingivitis. A scaling and root planing may involve handheld tools and/or ultrasonic cleaning devices to remove plaque and tartar from the root surfaces of your teeth, along the gum line and within the deep periodontal pockets. This eradicates the bacteria that cause the inflammation and infection found in gum disease.
Let us stop the progression of gum disease before it is too late. Call Dr. Mitzi Morris in Roswell to schedule a scaling and root planing or to learn more about our advanced treatment options for periodontitis.