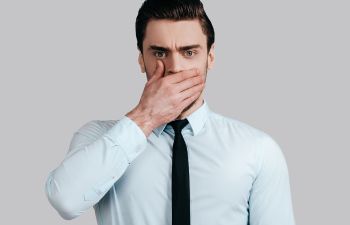 Are you afraid to go anywhere without a pocket full of mints or gum? Chronic bad breath can be detrimental to your social life and even make you less approachable at work. While you may think you are handling your bad breath with minty flavors, you are only masking the problem. To get rid of your foul breath odor for good, see your dentist.
Bad breath treatment with a dentist begins with finding the source. There are many factors that contribute to bad breath, but chronic halitosis is more than just "garlic breath" after an Italian meal. Halitosis can typically be traced back to poor oral hygiene. In such cases, a deep cleaning or stepping up your brushing and flossing regime is all you need to gain fresher breath.
The Bacteria Culprit
We all have bacteria in our mouths on a daily basis. When the bacteria becomes excessive and combines with food debris left in the mouth, it produces foul smelling sulfur compounds. Therefore, your best weapon against bad breath may be your toothbrush and floss. Make sure you are cleaning all surfaces of your teeth each day, and don't forget your tongue. Many patients make the mistake of neglecting to brush their tongue, which leaves millions of bacteria to remain in your mouth.
Decay or Disease
Your bad breath could be a warning sign that you have areas of untreated tooth decay or the first stages of gingivitis, both of which are triggered by an accumulation of bacteria and plaque. By repairing your cavity or treating the gum infection, your bad breath will dissipate fairly quickly.
If you struggle with bad breath on a daily basis, don't waste your money on chewing gums, mints and breath spray. Invest in a long-term solution by scheduling an appointment with Dr. Mitzi Morris. We have everything you need to regain a confident and healthy smile.