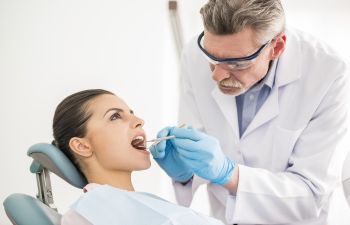 All types of floss are designed to do the same thing – clean between your teeth. In fact, 35% of your tooth's surface cannot be reached by brushing alone. When areas of your teeth don't get addressed, a buildup of plaque can develop. When left alone, plaque produces harmful acids that eat away at the enamel of your teeth. This sticky film leads to decay and gum disease, especially after it has hardened into tartar. While plaque is difficult to prevent, it is very easy to remove if addressed in a timely manner.
Traditional string floss is certainly enough to remove food, bacteria and plaque from between your teeth. However, some patients can benefit from a more advanced flossing tool called a water flosser.
What is a Water Flosser?
A water flosser is a handheld electronic tool that uses high-powered streams water to blast away plaque, food and other unwanted debris from your teeth. Water flossers are super easy to use and highly effective, but this flossing tool can be notably higher than old fashioned flossing thread. Therefore, many patients want to weigh the benefits of a water flosser and determine if it is worth their personal investment.
You May Need a Water Flosser IF . . .
Just like choosing between a manual toothbrush or an electronic brush, it largely comes down to personal preference. However, when it comes to water flossers, there are some specific reasons why this high-powered version may be best for certain individuals.
Here are some common signs that a water flosser may be right for you:
You have poor patience and technique using string floss.
You lack dexterity and/or coordination to thread traditional floss.
You have dental or orthodontic work that makes it tricky to floss traditionally.
Your teeth are crooked or crowded.
You are short on time.
You'd rather food debris be blasted and rinsed away without seeing it.
At the office of Dr. Mitzi Morris, we just want you to floss every day. The tool you use or how much money you invest is up to you. However, we do find that young children, teens in braces and aging adults appreciate water flossers for their superior effectiveness and ease of use. There are even cordless water flossers that allow you to floss in the shower and avoid cleanup on your bathroom counters or mirrors from splashing. Need more flossing tips? Contact our Roswell office today.