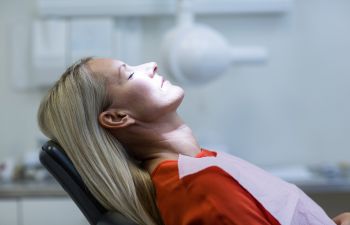 Sedation dentistry involves the use of special medications to help patients relax in the dental chair. In most cases, this includes either taking a sedative pill before you arrive at the dental office or breathing in a nitrous oxide mixture (laughing gas) through a small nosepiece during your procedure. Sedation dentistry is a popular solution for anxious patients, or those who have a notable fear or anxiety about going to the dentist. However, dental phobia is just one of the many reasons why sedation dentistry should be considered.
Sedation dentistry can benefit you if you:
Need multiple dental treatments that need to be done at one time
Want time to pass more quickly
Have a strong aversion to the sights, smells or sounds of dentist (latex, drills, etc)
Suffer from high gag reflex
Have sensitive teeth and/or gums
Have trouble sitting still (physical limitation, ADD, mental disability or young age)
Regardless of the reason you are electing sedation dentistry during your time in the dental chair, you can trust to have a pleasant experience. Sedation dentistry such as nitrous oxide or oral conscious sedation does not put you to sleep. In fact, you'll be aware of your surroundings and able to communicate with your dentist if needed. The difference, however, is that you'll be fully relaxed and in a generally "happy" state of being. This allows patients to be unbothered by the triggers that normally elicit discomfort and anxiety.
If you don't have a fear of the dentist but still think you could benefit from sedation dentistry, please don't hesitate to ask. At the office of Dr. Mitzi Morris, we believe that if sedation dentistry is what allows you to get the dental treatments you would otherwise avoid, it is the right solution for you!
Posted on the behalf of Mitzi Morris, DMD, PC