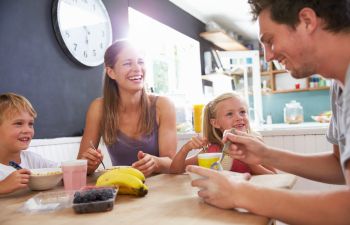 If you are pregnant, your responsibility to care for your child's dental health starts now. While you don't expect your baby to be born with visible teeth, their primary teeth start forming beneath the gums beginning at the sixth week of pregnancy! By the third or fourth month, these teeth have mineralized and will start building dentin (inner, bonelike tooth layer). Believe it or not, you can start doing your part now to ensure your child has every opportunity at a healthy and confident smile.
In the womb, many of the baby's physical developments depend on how well you take care of yourself. Your baby's tooth development is no different. While your diet can play the leading role in fostering healthy teeth formation, it is also important to know which substances or medications to avoid. For example, certain antibiotics and even fluoride supplementation are not advised during pregnancy. Tetracycline use during pregnancy has been known to cause permanent tooth staining in utero.
Eating For Your Baby's Smile
In your pregnancy diet, be sure to include the following nutrients that are important for prenatal tooth development:
Calcium
Phosphorous
Vitamin D
Protein
Ask your physician how to naturally get the above-mentioned nutrients from your diet. However, be aware that supplementation may be necessary. Always follow the guidelines set out by your prenatal care provider.
As your trusted dentist, Dr. Mitzi Morris welcomes the opportunity to care for moms-to-be. Please note that pregnancy is a critical time to maintain optimal oral hygiene and routine dental visits. Gum disease is prevalent in pregnant women and can affect the fetus if left unchecked. In fact, gum disease has been consistently linked with pre-term births. Do yourself and your baby a favor and keep up with your dental checkups during this special phase of life.