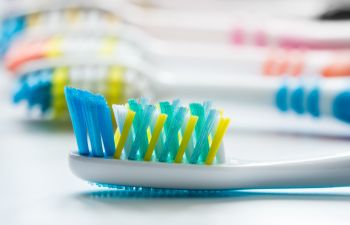 You are brushing and flossing like normal, when you suddenly notice red on your toothbrush. What should you do when you spit and see "pink in the sink." While this is not uncommon, bleeding during brushing or flossing should not be ignored. It may involve a simple change in your dental hygiene tools or your brushing technique. However, it can also indicate a more serious oral health concern that needs early attention.
Here are some reasons that you may be seeing pink in the sink on a regular basis:
You are brushing too aggressively

Believe it or not, you don't have to scrub hard or vigorously to clean your teeth. In fact, plaque is a sticky substance that is easily removed with a gentle to moderate force from your toothbrush. If your gums are bleeding a bit when you brush, try scaling back your brushing efforts to see if it resolves.

Your bristles are too hard

A soft nylon bristle brush is recommended for most patients. If your gums seem to be irritated or bleeding often, try changing out your medium to hard bristle brush for a softer alternative. This causes less damage to sensitive or tender gums.

You're not flossing enough

It is common to see pink in the sink when you've neglected to floss for weeks and suddenly decide to pick up the task. Don't be alarmed. Bleeding when flossing typically does not mean you should stop flossing – instead, it may mean that you need to do the job more often.

You have gingivitis
If you have altered your brushing habits and changed out toothbrush and continue to see blood, it is time to see a dentist. Your bleeding gums may be a warning sign of early gum disease, or gingivitis. This is the beginning stages of an infection, which can be marked by bleeding, swollen and tender gums. While untreated gum disease can lead to tooth loss and other serious threats to your health, gum disease that is detected and treated early is easily reversed. You may need a professional cleaning or a scaling and root planing procedure (deep cleaning).
Are you concerned about your bleeding gums? Let us determine why you are seeing pink in the sink. Call Mitzi Morris, DMD today!