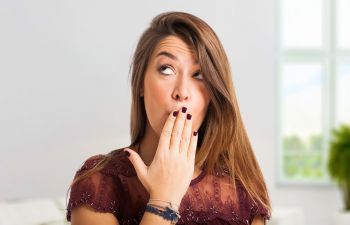 Nothing turns people away quicker than bad breath odor. Whether you are on a date or in a meeting, it is hard to make a good impression when you are emitting a stench from your mouth every time you speak. While you may be able to mask your bad breath temporarily with mints or chewing gum, you'll need to take further action if your foul breath odor keeps coming back. In fact, halitosis (the medical term for bad breath) can often be treated by your dentist. There are many oral health problems that cause halitosis if not addressed. Therefore, your less-than-fresh breath may not only be a social setback, but it could also be a warning sign that your dental health needs attention.
Determining the cause of your bad breath is the first and most important step to finding lasting relief. Contributing factors may range from poor brushing habits to advanced periodontal infection. Therefore, it is important to let your dentist evaluate you and make an accurate diagnosis.
Bad breath is most commonly a result of excessive or lingering oral bacteria. When bacteria feeds on the sugars and plaque that poor brushing leaves behind, it can bring a very unpleasant odor. In fact, this process emits sulfur compounds – a stench that you definitely don't want coming from your mouth! Many patients don't realize that the majority of oral bacteria lives on the tongue. Therefore, thorough tongue brushing can be a simple and effective way to reverse bad breath.
Not all cases of halitosis can be instantly treated with better brushing and flossing habits. More serious dental health problems, such as untreated decay, gum disease or infection, can produce bad breath as well. These are conditions that must be treated by a dentist, as they can result in tooth loss as well as threats to your whole-body health.
Do you struggle with bad breath on a daily basis? We know it makes you self-conscious and can even be a threat to your career and relationships. At the office of Dr. Mitzi Morris, we want to help you regain a confident and healthy smile. Let us investigate the cause of your halitosis and provide an appropriate remedy for lasting relief. Contact us today!