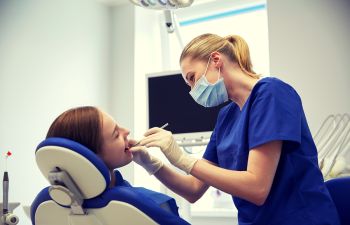 While there is very little risk of harming your health when you get your ears pierced, the same doesn't hold true when it comes to piercing an area of your mouth. Whether you are trying to make a fashion statement or simply experimenting, getting an oral piercing can be a major threat to your smile health. In fact, you should know a dentist's thoughts and perspective on oral piercings before you go through with the (likely painful) procedure.
Types of Oral Piercings
An oral piercing can include any area of the mouth or oral cavity. While it may seem painful or strange, oral piercings can include the following:
Tongue Piercings – Tongue piercings vary include single or multiple posts vertically (venom or angel bites), a single post horizontally (snake-eyes) or under the tongue (frenulum). A single hole through the center of your tongue is considered the safest when it comes to this type of oral piercing.
Lip Piercings – This can involve a piercing through or around the lips. Some people use piercings to create a "vampire, smile or frown" by placing the post between the gums and lip on the inside of their mouth.
Other Oral Piercings – Depending on your preferences and the skill of your technician, oral piercings can also include your cheeks, gums and uvula (the dangling flesh at the back of your throat). Unfortunately, these also carry serious risks to your oral health.
Oral Piercing Risks
You can expect tenderness and swelling after an oral piercing, along with a 10-week healing period! If you are still willing to undergo the piercing, you should know that there is a long list of general risks, including:
Infection
Migration or Rejection of Jewelry
Metal Allergies
Scars
Abscess
Damage to teeth (chips, breaks, etc)
Chance of trauma (yanking, tearing)
Why Your Dentist Won't Approve
As your trusted dentist, Dr. Mitzi Morris has a sole responsibility to protect your oral health. Oral piercings are an optional piece of jewelry that carry high risks for dental damage and oral health issues. Dental repairs after an oral piercing can not only be costly, but the appearance of your smile may also be jeopardized. For more questions about the risks of oral piercings or if you'd like tips on how to best protect your oral health from a current piercing, please give us a call today.