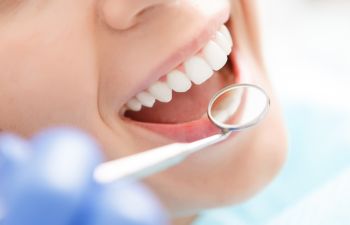 Optimal oral health is fostered by strong dental hygiene habits. This includes brushing twice a day and flossing daily. Sadly, more than half of the American population admits that they do not floss regularly. Twenty percent say they don't floss at all. Why is this important hygiene task getting neglected? Here are some common reasons (or excuses) why patients aren't flossing their teeth:
"It's Hard" Or "I Just Can't Seem to Do It Right."

This is commonly heard from patients who have dexterity or coordination problems. This can be a small child, an adult who has suffered a stroke or senior citizen with arthritis. Regardless of what it is that is keeping you from maneuvering traditional dental floss through your teeth, you should know that you have options. There are alternatives to traditional floss. Water flossers and Y-shaped flossing sticks can be excellent options for those that have physical limitations.

"I Don't Have Time."

While flossing may seem like a time-consuming task, you can get the job done in less time than it takes you to scroll your social media feed. In fact, the more you do it, the quicker you'll become at the task. Spending just two to three minutes out of your entire day to floss your teeth can save you a significant expense on treating dental problems down the road. Plus, flossing is better at fighting bad breath than chewing gum or sucking on a mint.

"I Am Not Convinced It Is Really Necessary."

Both brushing and flossing are critical components of your oral hygiene routine. In fact, if you don't floss, you are missing 35% of your tooth surface, getting areas where your toothbrush simply can't reach. Flossing isn't just about clearing out stuck food particles, you can remove bacteria and scrape off plaque build-up before it causes decay and/or gum disease. Cavities are known for developing between your teeth, so flossing is your best weapon.

"It Makes My Gums Bleed."

Healthy gums shouldn't bleed or hurt after flossing. If you see pink in the sink, it is often a sign that you need to be flossing more, as inflamed, red or bleeding gums are the first symptoms of gingivitis, or early gum disease. Untreated gum disease is not only the leading cause of tooth loss in the United States, but it can also affect your overall health in serious ways.
What's your excuse for not flossing? Chances are, we can counter your excuse with solid reasons why you should be picking up your dental floss on a daily basis. Your smile health depends on this simple, three-minute task! Call Mitzi Morris, DMD to schedule your dental checkup today.