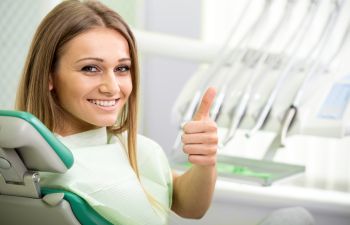 How many times have you made a New Year's resolution, only to fall short before spring? As 2019 begins, we encourage you to make goals for a healthier you. However, please make them attainable. When it comes to your dental health, you don't have to make lofty resolutions that aren't realistic. In fact, the best ways to protect your oral health are quite simple – and definitely doable.
Here are four SIMPLE resolutions for a healthier and more confident smile in 2019:
#1 Buy a New Toothbrush.
Go ahead and treat yourself to a new toothbrush this year. After all, you should be using this valued tool twice a day for two minutes per session. If you buy a new brush now, you can mark it on your calendar to purchase again in spring, as toothbrushes need to be replaced every 3 months or when the bristles look frayed. If you want to upgrade your toothbrush, consider an electric or powered version. Ask your dentist for recommendations!
#2 Floss!
Nearly half of the American population admits they do not floss daily. Flossing is one of the most important steps in keeping your mouth clean and your wallet safe from costly treatments down the road. Make a commitment this year to put your flossing excuses aside. It only takes a few minutes out of your day to pick up your flossing thread and clean between your teeth. In doing so, you'll put yourself at a much lower risk for gum disease, decay and bad breath. If you are not a fan of the feeling of dental floss, invest in a water flosser to get the job done.
#3 Visit the Dentist At Least Twice this Year
For nearly every patient, two dental visits (six months apart) is recommended for optimal oral health. This is for good reason. Your teeth need a professional cleaning (beyond what you can accomplish at home) in order to remove stubborn plaque and stains. In addition, if you are seeing the dentist every six months, there's not too much time for a dental problem to fester and require complex treatment. In other words, we can detect a cavity or gum disease at its earliest, most treatable stage. Lastly, if you have dental insurance, there's no reason not to attend your preventative visits – as these are typically covered in full.
#4. SMILE More Often!
If your teeth are healthy, you can feel confident in smiling more. But, did you know that the act of smiling can improve your mood, stress level and immune system! Discover the remarkable facts and benefits of smiling.
At Mitzi Morris, DMD, we'd love to do our part in helping you achieve a healthier smile this year. We hope that you can add these very simple resolutions to your New Year's goals in 2019. Start now by scheduling that first routine checkup!