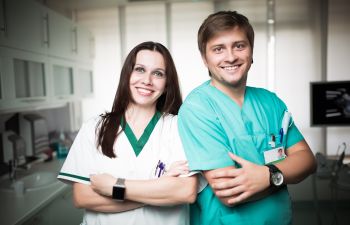 Since it is National Dental Hygiene Month in October, it is a great time to remind yourself how important your teeth are to your overall health. Taking care of your teeth and gums not only keeps your smile clean and fresh, but it also helps your body stay healthy. Gum disease has been linked to diabetes, heart disease, stroke and even premature birth. Gum disease is an infection of the soft tissues that support the teeth, and it is primarily caused by bacteria from plaque build-up. Therefore, in an effort to prevent gum disease and protect your health, it is critical that we prevent plaque build-up in the first place. Besides attending your routine dental cleanings and eating a well-balanced diet, here are some tips for optimal oral health.
The American Dental Hygiene Association (ADHA) and Wm. Wrigley Jr. Company have teamed up to announce October as National Dental Hygiene Month (NDHM). They promote the following four components for good oral health:
Brush – brushing your teeth twice a day for two minutes each time is important to prevent plaque accumulation and the oral health problems that can result
Floss – never underestimate the power of flossing. It is responsible for cleaning up to 35% of your tooth surface. By flossing just once a day, you can eliminate food debris and plaque that is stuck in places your toothbrush cannot reach.
Rinse – antimicrobial mouth rinses can kill any bacteria that brushing and flossing left behind.
Chew – did you know that chewing a piece of sugar-free gum can help remove food and plaque between brushing sessions? It also promotes saliva production, which neutralizes harmful acids in your mouth and naturally rinses your pearly whites.
Although these oral health tips may not be anything new for you, they are basic steps that can significantly improve your teeth, gum and body health if they are diligently adhered to. At Mitzi Morris, DMD, we value the importance of preventive dental care – whether that means educating our patients on the proper brushing and flossing techniques or performing a thorough dental exam every six months. Do your smile and you body a favor this month and step up your game when it comes to your dental health!