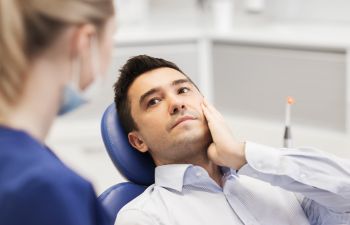 Dental implants have an exemplary success rate. However, while implant problems are rare, they do exist. Fortunately, most dental implant repairs can be done here at Mitzi Morris, DMD. While you may feel as though the implant itself is failing, it is often just the restoration or crown on top that is damaged or needs adjustment. However, problems underneath your crown could be present as well. Regardless, you need to have a dental professional examine your dental implant as soon as possible.
Your treatment or repair will be based on which area of the implant is malfunctioning or damaged, such as the implant, abutment or implant restoration (crown, bridge or denture). If your implant is loose due poor osseointegration, this means that the titanium post never fully fused to your jawbone. This will create instability within your prosthetic tooth.
Another possibility is that you have gum disease and the infection has deteriorated some of your jawbone. If the bone doesn't retain its density and height for your implant, the implant may fail and become loose. Any signs of swelling, bleeding or redness in your gums should always be discussed with your dentist right away.
Lastly, you could be experiencing problems within your crown or other type of dental implant restoration. If your crown has been cracked or damaged, it may feel loose. This is the simplest fix, as it requires placing a new crown on your existing implant and abutment.
If your dental implants don't feel or look like they used to, call Mitzi Morris, DMD right away. While we cannot guarantee it will be a simple fix, we can promise you it won't correct itself.