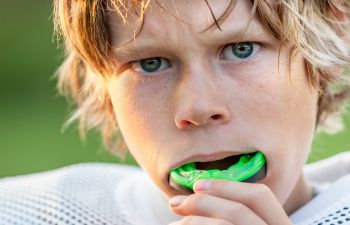 There are more than seven million recreation and sports-related injuries that occur annually, according to the Centers for Disease Control and Prevention. Half of those injuries happen to young adults and children from the age of 24 years and younger. However, when the injury involves the mouth, it is almost always preventable. A custom mouthguard is an easy way to avoid dental emergencies involving your child's mouth. Sadly, 67 percent of parents will not have their children use a mouthguard, according to the American Association of Orthodontists.
What Can a Mouthguard Prevent?
Dental emergencies involving a sports-related trauma are not only painful, but they can be quite costly to repair. Considering the amount of protection that it can give, investing in a custom mouthguard from you dentist is easy to justify. Custom mouthguards fit comfortably over every crevice and groove of your child's smile. It protects the entire mouth from injury by absorbing blunt force or unexpected trauma to the teeth. The American Dental Association estimates that a mouthguard can prevent 200,000 injuries to the face and mouth area each year! This simple oral appliance can help your child avoid a wide range of injuries such as:
Broken jaw bones
Knocked-out teeth
Chipped or cracked teeth
Lip and cheek lacerations
Although not verified and supported by all experts, many professionals believe in the possibility that custom mouthguards can also prevent concussions. The University of Pittsburgh Department of Neurological Surgery states that in the United States alone 300,000 sports-related concussions occur annually, and the likelihood of suffering a concussion while playing a contact sport is estimated to be as high as 19% per year of play. By biting down on a mouthguard, pressure is taken off the jaw and could lessen shocks to the brain.
Avoid a Dental Emergency This Season
While football players and hockey players have mouthguards on the list of required equipment, there are other sports that can also benefit from this key method of protection. Mouthguards can be used during any type of sport that a mouth injury could occur, including basketball, soccer and baseball. 
For more questions about custom mouthguards or how to avoid costly dental pain during youth sports, please contact Dr. Mitzi Morris.