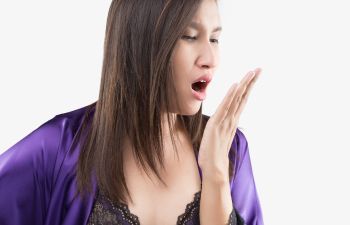 It is rare to find an individual who hasn't experienced bad breath. People of all ages can suffer from foul breath, especially in the morning or after eating potent foods. However, while bad breath is never welcome, it is important to understand when it is normal and when it is not. For example, having "morning breath" is very different than chronic halitosis. In fact, halitosis often needs a dentist's attention.
If you are finding yourself needing breath mints or backing away from others when you talk in fear of your bad breath, let us help. Dr. Mitzi Morris in Roswell is equipped to help patients regain fresher breath – which starts with a healthier smile!
Understanding Morning Breath
No matter how long you brushed your teeth or swished with mouthwash before bed, you may still wake up with stinky breath in the morning. "Morning breath" is almost unavoidable. It occurs because our saliva production naturally slows down while we sleep, which is combined with the fact that bacteria also like to feed and multiple at night. When it comes to this type of breath odor, your toothpaste and toothbrush can typically remedy the concern fast.
What is Halitosis?
If your bad breath does not go away with brushing, flossing or mouthwash, you may have halitosis. Halitosis can be a symptom of serious dental or health issue that needs to be addressed. It can develop due to advanced tooth decay, infection or excessive oral bacteria. When bacteria feeds on the sugars we consume, it produces a foul-smelling sulfur compound. Relieving chronic bad breath must involve addressing the underlying oral health issue going on. In many cases, a professional cleaning at your dentist and better oral hygiene at home can bring lasting fresh breath.
When Your Bad Breath Demands Treatment
Treatment for halitosis depends on what is causing the bad odor. Often it is a dental problem. A decayed tooth, gum disease or a deep tooth infection can all release a bad odor. If a dental issue is causing your halitosis, you need to treat the issue as soon as possible. Removing decay, undergoing a root canal for an infected tooth or receiving gum disease treatment can resolve the oral health issue and put a stop to your chronic bad breath.
Halitosis should not be ignored. It is not only embarrassing, it is likely a symptom of a serious dental issue. Call Dr. Morris today to schedule a checkup and professional dental cleaning for your bad breath. Our dental team can determine whether you need dental treatment or if you should seek medical attention for your halitosis.