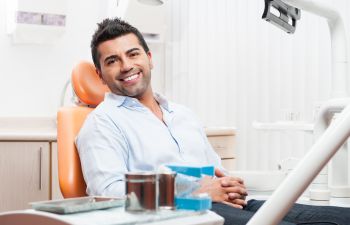 According to studies from the Academy of General Dentistry and the American Dental Association, men are more likely to neglect their oral health, especially when it comes to preventative care. Women are more apt to brush twice a day and brush after meals compared to men. It comes to no surprise, therefore, that men are also more likely to suffer from gum disease. Considering that gum disease has been strongly linked to heart disease and stroke, this statistic should be taken more seriously.
While all men need to follow diligent oral hygiene and preventative dental care, there are certain men who are at even high risk for dental problems. If you fall into one or more of the following categories, you'll need to speak with your dentist about some extra measures you can take to protect your oral health:
Men who have dry mouth.

One of the most common culprits to dry mouth is from medication. Certain antidepressants and blood pressure medicines can lower your saliva production. Without enough saliva in your mouth to rinse away bacteria and neutralize acids, you may be at a greater risk for decay and gum disease. While you may not be able to stop taking your medications, your dentist can instruct you on some things you can take to combat dry mouth.

Men who smoke.

Actually, any form of tobacco use (smoking or chewing tobacco) greatly increases your risk for a host of oral health problems, from tooth stains and bad breath to gum disease and oral cancer. If not diagnosed and treated early, oral cancer can be deadly.

Men who are athletic.

While it is great to be active through all stages of life, it is also important to protect your smile during your adventures, especially when it comes to high contact sports. Mouth injuries are all too common and can lead to irreversible tooth damage. The best and easiest way to prevent dental injury during sports is to have your dentist make a custom mouthguard.
At Mitzi Morris DMD, we understand the unique oral health risks associated with age and gender. If you are a male patient, we will carefully consider your likelihood of developing gum disease, decay, oral cancer and other oral health problems so that we can recommend the most appropriate treatment plan. At the end of the day, however, it is imperative that both men and women seek the preventive dental care they need and deserve.