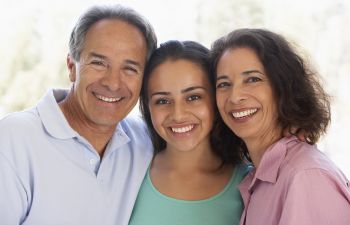 At Mitzi Morris, DMD, our job is to help patients attain a healthy and beautiful smile. We never want the appearance or comfort of your teeth to be a reason you hide your smile or hold back your laughter. In fact, laughing and smiling can deliver some profound benefits towards your quality of life, your overall health and your well-being.
Learn these fun facts about what showing off your pearly whites can do for you:
Better Mood

Studies show that just the act of curling up your lips and forcing a smile can lift your spirits and boost your mood. Give it a try the next time you feel sad – it can be an excellent coping strategy to turn your attitude around.

Stress Reliever

When experiencing tension or stress, find something that makes you belly laugh. The act of laughing can increase circulation within the body and help your muscles relax. These effects are felt for up to 45 minutes after you stop laughing!

Improve Approachability

Smiling sends a positive and comforting signal to others that makes you more approachable. This is beneficial within your family as well as in your career and everyday interactions with the public. Keep in mind that smiling and laughter are also considered contagious, so you can help others feel better too!

More Productive

If you struggle to stay focused at work, try increasing the number of times you smile or laugh. Smiling can improve your mood and boost your productivity by helping you stay tuned to your tasks. When you are productive, you are also happier – it is a wonderful cycle to be in!

Physical Health Perks

Beyond mental health, smiling and laughing can also boost your physical health. The act of laughing works your abdominal muscles without even realizing it. In addition, your body will release endorphins that can reduce pain levels and even boost your immune system. Studies have also shown that smiling and laughing can lower blood pressure and reduce one's risk for cardiovascular disease!
At Mizti Morris, DMD, we want to do our part to help patients smile and laugh more. If you have teeth that are missing, crooked, discolored or chipped, we invite you to schedule a consultation for cosmetic dentistry. It could be a simple investment that gives you the freedom to reap the remarkable benefits of laughing and smiling more often!