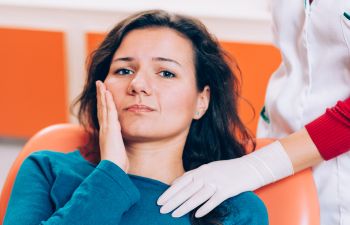 When it comes to persistent jaw pain, simple everyday activities like eating and speaking can become uncomfortable and challenging. While jaw pain is not uncommon, it can be rooted in a wide variety of causes. Determining the reason for your jaw symptoms must be the first step towards an effective remedy.
What causes jaw pain?
If you are suffering from jaw pain, it is important to consider other symptoms you may or may not be having. Do you also have frequent headaches, neck pain or tooth sensitivity? Are you suffering from a cold or sinus infection? A qualified dentist can accurately determine whether your jaw pain is coming from a more serious dental problem, such as the following:
Teeth Grinding and TMJ Disorder – Bruxism is one of the most common reasons for jaw pain. Chronic teeth grinding or clenching can be significant strain on your TMJ (jaw joint). TMJ disorder is associated with a number of disruptive symptoms, including worn down teeth, tooth sensitivity, bite problems, jaw pain, jaw stiffness, headaches, ear pain and more.
Gum Disease – When periodontal disease advances enough to cause gum recession, it can expose sensitive tooth roots and nerves that can produce radiating pain into the jaw.
Dental Infection – Untreated tooth decay or a dental abscess are more serious oral health problems that can cause an infection to spread throughout your body. A severe toothache can cause jaw pain and is an indication that you need prompt treatment.
Trauma/Injury – A bad fall or direct blow to the mouth can cause injury to the jaw and/or jaw joint. This type of jaw pain is treated very differently than that of an infected tooth or nighttime teeth grinding habit.
Are you suffering from painful jaw symptoms? Call the office of Dr. Mitzi Morris. We have a broad range of treatment options to relieve your discomfort and restore a healthy and functional mouth.