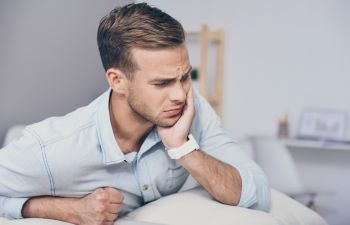 Do you suffer from frequent tension headaches, ear pain or persistent tightness in your jaw? When the jaw joint (temporomandibular joint) becomes irritated or gets out of place, disruptive issues can result. For many, TMJ problems can pose a significant threat to their quality of life and oral health. You may avoid eating certain foods or wince in pain when you yawn in the mornings. While not everyone has severe jaw pain, it is not a condition that should be ignored. Just like any other joint in your body, your jaw joints need proper care and protection when they are producing symptoms.
TMJ problems aren't always obvious. Since this joint is surrounded by several muscles, tissues and nerves of the face, the effects of inflammation of this joint can be deceiving. In fact, it is not uncommon for TMJ disorders to be confused with ear infections. If you suffer from the following wide range of symptoms, you may benefit from TMD (temporomandibular joint disorder) treatment:
Headaches (often in the morning)
Jaw pain or discomfort
Ear pain or dizziness
Bite problems
Clicking or popping of the jaw
Frequent jaw locking
What's Causing You to Clench or Grind?
TMJ symptoms can vary from patient to patient, and they can be triggered from a variety of factors. An improper bite, teeth grinding (bruxism) habit or an injury to the jaw or face can cause jaw joint problems. Regardless of the severity of your condition or what caused it, you can trust Dr. Mitzi Morris to offer effective relief – restoring your smile, comfort and quality of life.
Depending on the culprit to your TMJ problems, various treatment options can be suggested. Your treatment plan may involve one or a combination of therapies, such as the use of an orthotic splint or night guard, enamel reshaping, dental crowns, orthodontics or other proven therapies. The goal of any TMD treatment is to stabilize your bite into ideal position, allowing your teeth and jaw muscles to work together without additional strain.
For more information on jaw pain treatment from a trusted Roswell dentist, call the office of Mitzi Morris, DMD. We look forward to serving you with state-of-the-art dentistry in a comfortable, relaxing environment.