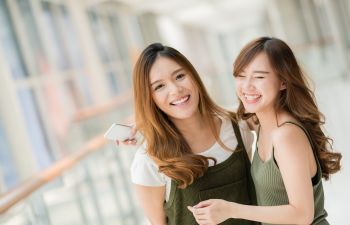 When it comes to your dental health, each stage of life presents with unique challenges and concerns. Adolescence is no different. In fact, there are some very notable dental risks that can occur during these turbulent teenage years. As a parent, we know you are picking your battles as you raise your teen. However, let proper dental care be one of those battles. Your teen's oral health can play a significant role in how they feel, their overall health and the future of their smile as they emerge into adulthood.
Due to lifestyle habits, hormones and other factors, here are some reasons why your teenager's dental health can be at risk during this life stage:
Drinking Sports and Energy Drinks
Whether it is an attempt to stay up late and study or replenish electrolytes after a big game, teens are among the most common age group to consume energy drinks and sports drinks. Unfortunately, the high acidity and sugars in these drinks can wreak havoc on the enamel and health of their teeth. Encourage your child to drink water and avoid sipping on these drinks throughout the day.
Late Night Snacking
Many teenagers are experiencing major growth spurts, which comes with very frequent hunger pains and snacking. If they are in the habit of snacking late at night (perhaps after they've brushed their teeth),it can leave their smile in danger of decay, gum disease, bad breath and staining.
Wearing Braces
Adolescence is a common time to undergo orthodontic treatment. Wearing metal braces with brackets and wires can certainly straighten your teen's smile, but they can also be a major obstacle when trying to keep the teeth clean and healthy. Oral hygiene during braces may require extra effort and even some special tools like orthodontic flossers and more.
Gaining Independence
It's time to start letting go. As your allow your teen to gain some independence, this may mean that they are taking charge of their dental care. While your child has likely been brushing and flossing without your help for years, it may now be time for your teenager to take responsibility for routine dental visits in the form of making the appointment or driving to the visit. Educate your child about the importance of preventative dental care!
Surging Hormones
We can't talk about teenagers without discussing hormones. Yes, those surging hormones that send them on a roller coaster of moods can also impact their oral health. In fact, studies show that teenagers are more susceptible to gum disease due to these high levels of hormones.
Your teenager has every opportunity to have a healthy and confident smile through this transitional stage of life. At Mitzi Morris, DMD, we are here to help as your trusted provider of teen dental care. Dr. Morris is keenly aware of the challenges that teens face when it comes to their oral health, and we can deliver the preventative and restorative treatments they need for a healthy smile. Call today to schedule your visit in Roswell.