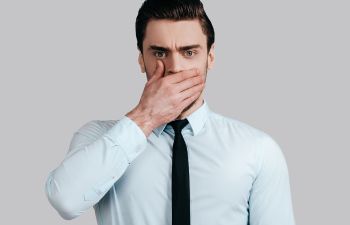 Nearly 55 percent of Americans take a prescription medication on a daily basis, according to a survey posted in Health Daily News. These medications are used to treat a myriad of health concerns, and many of them have unwanted side effects. While an upset stomach, dizziness or sleeplessness is easy to pinpoint as a medication side effect, oral health symptoms are less often associated with your prescription medication. For example, would you know to blame your daily Rx for your chronic bad breath? Considering the large number of medications that cause Xerostomia (dry mouth), it is a real possibility that the pill you swallow every day is the culprit to your stinky breath struggles.
Whether it is prescribed by your doctor or purchased over-the-counter, there are several types of medications that are known for causing a chronic dry mouth, including the following:
• Sinus and allergy medications
• Anti-depressants
• Blood pressure medications
• Muscle relaxants
• Diuretics
• Pain medications
What is the Connection Between Dry Mouth and Bad Breath?
The fact that the above listed drugs contribute to a dry mouth is also the reason they can cause bad breath. Chronic bad breath (or halitosis) is most often the result of excess bacteria in the mouth. When saliva production is low (dry mouth), food debris and bacteria don't get properly rinsed away like they should. In addition, saliva is responsible for neutralizing acids in the mouth. So without enough spit, patients are susceptible to decay, gum disease and other dental problems that can create an unpleasant breath odor. In fact, when bacteria feeds on sugars in the mouth, they produce a foul-smelling sulfur compound in the process. Therefore, it becomes clear that a chronic dry mouth is a recipe for bad breath.
What Can You Do?
Many patients who are taking daily prescriptions need these drugs to be healthy or to live. Stopping the medication may not be an option. However, that doesn't mean you have to succumb to bad breath the rest of your life. There are specific therapies to combat dry mouth and stop bad breath, despite the specific medication you may be taking. It is also very likely that you may need to visit the dentist for routine cleanings more often to ensure your teeth and gums are not suffering harmful side effects.
Call Mitzi Morris, DMD
At our Roswell office, we are committed to helping patients through all stages of life. We understand the large population that relies on daily medication. Please let us know of any and all medications you are taking during your dental visits so that we can develop the most effective treatment plan for your oral health and help you avoid embarrassment of bad breath.