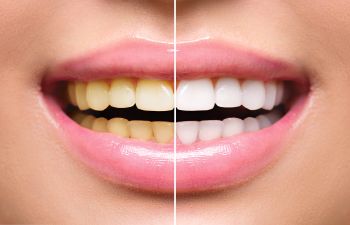 White teeth are certainly attractive. In fact, a whiter smile can contribute to your career success and even take years off of your appearance. Unfortunately, it is not always easy to maintain a bright set of teeth. Regardless of how often you brush and floss, your teeth may still suffer from unsightly staining and discoloration. Habits that involve coffee, red wine and tobacco use can make your dental stains even worse. Your smile is prone to discolor over time, and it is not always possible to avoid minor stains without the help of your dentist. Your dentist can offer professional teeth whitening treatments to bring back your brilliant smile.
Not all teeth whitening treatments are equal. First and foremost, you should understand the difference between professional whitening with your dentist compared to the whitening products you can buy in your grocery store aisle. Over-the-counter products, such as whitening pens, strips, toothpastes, trays and mouthwashes, often promise to whiten your teeth over a period of time. While you may see results with these methods, you will likely have to wait longer and undergo repeated treatments to reach your goals. Most importantly, DIY whitening is not overseen by a dentist. Therefore, you may experience disruptive sensitivity and pain after using some of these products.
Professional whitening at your dental office is quicker, safer and more effective. Dr. Mitzi Morris offers ZOOM! Whitening, one of the nation's most proven professional-grade whitening systems that uses light-activated gel to reverse tooth stains in just one hour! By simply sitting in the dental chair and relaxing, we may be able to lighten your smile by several shades!
Good and Bad Candidates for Professional Teeth Whitening
While everyone desires whiter and brighter teeth, not everyone will be a good candidate for professional teeth whitening. Patients with mild to moderate external staining are ideal candidates. Good candidates for professional teeth whitening also must have good oral health with updated visits to their dentist.
Poor candidates also exist. You may want to consider an alternative treatment for whiter teeth (such as porcelain veneers), if you have:
Gum disease
Multiple dental restorations (crowns, fillings, bridge)
Extensive decay
Exposed tooth roots
Extremely sensitive teeth
Severe and/or internal staining
Desire for permanent results
Teeth whitening remains the most sought-after service in cosmetic dentistry. It can bring some of the most dramatic improvements to your smile with minimal time and money compared to other cosmetic dental treatments. Schedule your ZOOM! Whitening in Roswell today by calling Dr. Mitzi Morris!