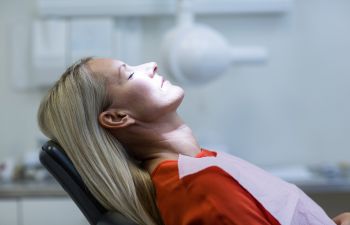 According to WebMD, between 9% and 20% of Americans avoid going to the dentist because of anxiety or fear. If you have an uneasiness about dental care, it is important that you understand the help that is available to you. Avoiding or putting off dental visits can lead to a variety of consequences, including worsening dental problems that warrant a more invasive, costly or lengthy treatment as well as issues within your overall health and well-being.
Causes of Dental Anxiety
For some patients, it helps to identify the root cause or reason for their dental anxiety. This can be a number of things, but most find that their dental fear is attributed to a negative experience at the dentist as a child. This could be a dental visit that resulted in unexpected pain or a dentist that wasn't compassionate or gentle. For others, dental anxiety is a result of one or more of the following:
Aversion to sights, sounds or smells at dental office
Fear of needles
Fear of being out of control
Embarrassment of dental health condition
Fear of pain
Severe gag reflex
How A Sedation Dentist Can Help
If the thought of going to the dentist makes your palms sweat or your stomach turn, you should know what you can expect from a modern sedation dentist like Dr. Mitzi Morris. Not only do we cater to your comfort needs with a relaxing office environment, soothing amenities and caring staff, but we also offer a full range of sedation dentistry options.
Don't let dental anxiety keep you from giving your smile the attention it needs. Neglecting decay, infection or disease within your mouth can lead to serious consequences within your body health as well as threats to your quality of life. It's never been easier to stay comfortable and relaxed at the dental office. Simply let us know if you'd like to have sedation dentistry at your upcoming appointment, and be sure to disclose any specific fears or aversions that you have surrounding dental care. We are confident we can make it a positive experience at the office of Dr. Mitzi Morris!